South Africa Policy Dilemma More Pronounced, Kganyago Says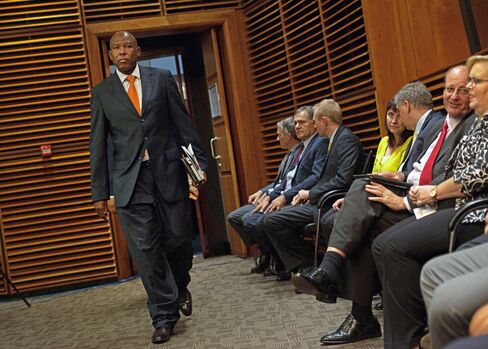 Governor cites GDP contraction three months through March

Inflation slowed to 6.1% in May, lowest rate this year
South Africa's monetary policy dilemma has become more notable after the economy shrunk in the three months through March, according to Reserve Bank Governor Lesetja Kganyago.
"South Africa is facing a policy dilemma," Kganyago said in an interview in Tanzania's commercial capital Dar es Salaam on Wednesday. "A policy dilemma of high inflation and low growth, and that dilemma has become more pronounced now with the contraction that we are seeing in the first quarter."
The Monetary Policy Committee left the benchmark repurchase rate unchanged at 7 percent last month after raising it four times since July as it sought to steer inflation back into its 3 percent to 6 percent target, even as it forecast the economy will expand at the slowest pace since a 2009 recession this year. Gross domestic product contracted 1.2 percent in the first quarter after mining and farming output slumped.
The central bank will announce its next interest-rate decision on July 21 and has said inflation will only return to the target band in the third quarter of next year. While price growth unexpectedly slowed to 6.1 percent in May, the lowest rate this year, Kganyago said the risks to the outlook remain on the upside.
'Appropriate Decision'
"We will continue to assess data," Kganyago said. "Come the next MPC meeting, we will look at the data and say what does the data tell us, what is the inflation outlook, what is the growth outlook, and then we will make an appropriate decision."
Forward-rate agreements starting in six months, used to speculate on borrowing costs, are pricing in less than 25 basis points of rate increases for the rest of the year. The five-year breakeven rate, a measure of bond investors' price expectations, has slumped 47 basis points this month to 6.87 percent, the lowest since December.
The rand has strengthened more than 8 percent since the last MPC meeting, easing pressure on inflation, as past polls show that Britain is unlikely to exit the European Union and Federal Reserve Chair Janet Yellen reiterated a cautious and uncertain view of the world's biggest economy. The rand gained 0.2 percent to 14.5781 per dollar as of 7:35 a.m. in Johannesburg on Thursday, heading for its highest closing level closing since May 2.
The central bank is not under any pressure to make certain decisions, Kganyago said.
"We are acting independently, we are not under pressure from any quarter," he said.
Before it's here, it's on the Bloomberg Terminal.
LEARN MORE