Saudi Prince Ends Silicon Valley Tour at Facebook Before UN Trip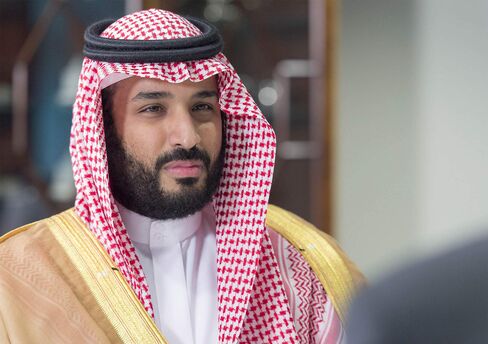 Prince Mohammed met CEO Zuckerberg while in California

UN's Ban Ki-moon met the prince in New York after Yemen flap
Saudi Arabia's deputy crown prince met Facebook Inc. Chief Executive Officer Mark Zuckerberg during a tour of Silicon Valley and then traveled to New York for meetings at the United Nations in a bid to de-escalate a row with the secretary-general.
In the second week of a U.S. trip aimed at improving ties with government officials and drumming up investment, Prince Mohammed Bin Salman met Zuckerberg for the first time. Photos released by the prince's office showed him wearing jeans and a blazer while touring the Menlo Park, California, campus with Zuckerberg and trying on an Oculus Rift virtual-reality headset.
Prince Mohammed's stops in the San Francisco Bay Area included visits Tuesday with Microsoft CEO Satya Nadella and executives of Cisco Systems Inc. The prince signed memorandums of understanding with Microsoft and Cisco that provide for training Saudis and helping to expand the kingdom's technology industry.
The deputy crown prince -- who is also Saudi Arabia's defense minister and the son of King Salman -- arrived Wednesday in New York to meet with more investors before returning to Riyadh. Back home, the prince is leading Saudi Arabia's biggest-ever economic shakeup, moving to cut subsidies and diversify the economy away from oil by generating an extra $100 billion in non-oil revenue by 2020.
But he is also is taking care of geopolitical business on his trip. Prince Mohammed spent last week in Washington, where he talked with President Barack Obama as well as Secretary of State John Kerry, Defense Secretary Ash Carter and senior intelligence and congressional officials.
Yemen Tensions
On Wednesday, he met at the UN with Secretary-General Ban Ki-moon, who's expected to travel this weekend to Kuwait to encourage stalled peace talks in the war in Yemen, where Saudi Arabia heads a military coalition fighting Shiite Houthi rebels.
A Saudi-led coalition has carried out air and ground offensives in Yemen since March 2015, battling Houthi rebels that the Gulf Arab states accuse of being tools of Iran.
Almost 6,500 people have been killed in the Yemen violence, and 2.8 million others are displaced, according to the UN. The UN briefly blacklisted Saudi Arabia over the killing of children in Yemen, after a UN report said the Saudi-led coalition was responsible for 60 percent of child deaths and injuries in the conflict last year.
For a QuickTake explaining the fault lines in Yemen, click here.
This month, Ban went public with a complaint that the Saudis forced him to remove them from the list, prompting an outpouring of criticism. Saudi Arabia and other Gulf Arab states had threatened to cut various funding to UN programs, Ban said, forcing him to acquiesce in taking them off the blacklist.
Now there are some signs that a breakthrough is close in the Yemen negotiations held in Kuwait, and Ban's presence there could contribute to success, UN officials said.
The talks are at "a critical juncture" and the parties need to engage seriously and "show flexibility to find a durable peace," France's UN Ambassador Francois Delattre said. The secretary general's efforts are "important to bring parties together to produce results," he said.
Before it's here, it's on the Bloomberg Terminal.
LEARN MORE