Dollar Falls as Reduced Brexit Concern Renews Focus on Fed Plans
Bloomberg Dollar Spot Index reaches lowest level in 7 weeks

Euro, pound strengthen before U.K. vote on EU membership
The dollar weakened to a seven-week low during the day as a reduced likelihood of the U.K. voting to leave the European Union returned focus to Federal Reserve policy makers' concern about economic headwinds and a gradual pace for interest-rate increases.
The U.S. currency fell versus all its major peers as Fed Chair Janet Yellen's comments in her congressional testimony reiterated a cautious and uncertain view of the economy. It weakened against the euro and pound as traders took cues from betting odds that point to the U.K. voting to stay in the EU.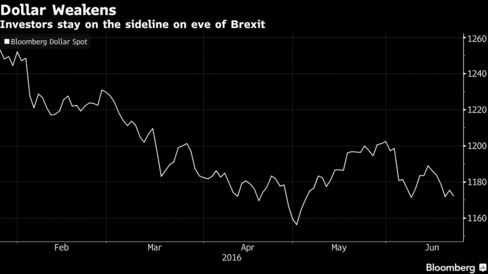 "There was a tremendous selling of the euro and sterling, and now we're seeing those being bought back," said Douglas Borthwick, the New York-based head of currencies at Chapdelaine & Co. If the "Remain" campaign wins, sterling and the euro will extend gains against the dollar, he said.
The U.S. currency has fallen 2.6 percent this month on expectations that the Fed won't be able to raise interest rates, in contrast with its peers in Europe and Japan, which are carrying out monetary stimulus.
The Bloomberg Dollar Spot Index, which tracks the currency against 10 major peers, declined 0.4 per cent as of 5 p.m. in New York, its weakest level since May 4. The dollar weakened 0.5 percent to $1.1296 per euro and fell 0.3 percent to 104.41 yen.
Before it's here, it's on the Bloomberg Terminal.
LEARN MORE