Colombia Raises Key Rate to 7.5% and Signals End to Hikes
Policy makers have raised rates 300 basis points since Sept.

El Nino and the weaker peso have pushed inflation to 8.2%
Colombia's central bank raised its benchmark interest rate for a 10th consecutive month as consumer prices rose at the fastest pace since 2001 -- while Finance Minister Mauricio Cardenas signaled that the tightening cycle was now over.
In a majority decision, the seven-member board voted to raise the key rate a quarter-point to 7.5 percent, central bank Governor Jose Dario Uribe told reporters in Bogota after the meeting, in line with the forecast of all 31 analysts surveyed by Bloomberg.
"I think the job is done," said Cardenas, who chairs the policy committee. "Interest rates have reached a fair, suitable level. A level that allows for an ordered adjustment in the economy, including slower inflation."
Inflation has accelerated in 11 of the past 12 months, reaching 8.2 percent in May, as the El Nino weather phenomenon pushes up food prices and the weaker currency lifts import costs. Those factors should reverse in the next two or three months, enabling inflation to slow into the target range next year, Uribe said. Higher interest rates are also slowing growth and easing pressure on inflation, he said.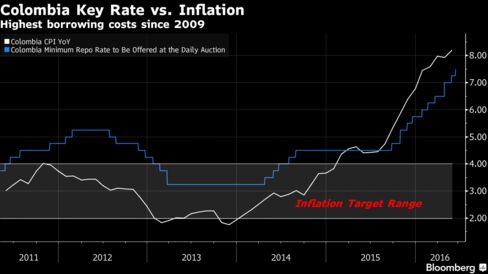 "The results we are seeing are favorable," Uribe said. "They are a clear sign that the economy is adjusting along the lines that we wanted."
Rate Cycle
Bank co-director Cesar Vallejo earlier this month said that there's a consensus on the policy committee that the end of the tightening phase is now "very close," while co-director Adolfo Meisel said the policy rate is probably near its equilibrium level.
Colombia's economy expanded 2.5 percent in the first quarter from the year earlier following a drop in the prices for the nation's oil, coal and coffee and a slump of consumer confidence. The expansion was the slowest since the 2009 crisis.
Still, the door isn't closed to further rate increases, according to Juan David Ballen, a strategist at Bogota-based brokerage Casa de Bolsa SA.
"I think there's the a big possibility that there could be another 25 basis points coming," Ballen said by phone. "You don't see a change in the language signalling that inflation isn't a worry anymore."
Analysts polled by Bloomberg forecast gross domestic product will grow 2.3 percent this year, compared with expansion of 3.6 percent in Peru, 2.5 percent in Mexico and 1.8 percent in Chile. Brazil's economy is expected to contract 3.8 percent.
Before it's here, it's on the Bloomberg Terminal.
LEARN MORE