Yellen Cautions Against Exaggerating Global Impact From Brexit
Doesn't see U.S. falling into recession if U.K. exits EU

Calls Thursday's vote 'unique event' with no close parallel
Federal Reserve Chair Janet Yellen sought to avoid taking sides or being overly alarmist about the probable global fallout should Britain exit the European Union, even as she reiterated that such an event could have "significant economic repercussions."
"I don't want to overblow the likely impacts," she told the Senate Banking Committee on Tuesday, adding that she didn't expect the U.S. economy to fall into a recession if the U.K. leaves the EU.
U.K. citizens go to the polls on Thursday to decide whether to remain in the 28-nation bloc, with surveys suggesting that the outcome is too close to call. Billionaire investor George Soros has warned that the pound may slump more than 20 percent against the dollar if supporters of a so-called Brexit prevail.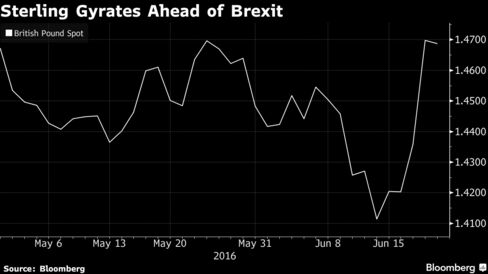 "I am not attempting to take a stand, they're going to go to the polls," Yellen said. "I'm simply saying the decision could have economic consequences that would be relevant to the U.S. economic outlook that we need to monitor carefully."
European Central Bank President Mario Draghi has been less shy, saying earlier this month that his institution's view is that "the U.K. should remain in the European Union." Bank of England Governor Mark Carney said a vote to leave the EU could cause a U.K. recession and would be ''the biggest domestic risk to financial stability." International Monetary Fund Managing Director Christine Lagarde has said that a U.K. exit would be "negative on all fronts."
'Unique Event'
Yellen stressed the uncertainties surrounding the upcoming referendum and said the Fed was ready to act as needed in response.
"This is a unique event that has no close parallel," Yellen said. "We will closely monitor what the economic consequences would be and are prepared to act in light of that assessment."
In her prepared opening statement, Yellen said a U.K. vote to exit "could have significant economic repercussions" and was one reason why the Fed was cautious about raising interest rates now.
Under questioning from lawmakers including Republican Senator Tom Cotton of Arkansas, she was quick to stress that she had said that such an outcome "could" have those types of effects, not that it "would" have them.
She did though say that most analyses suggested Brexit would have negative consequences for the U.K. with spillovers to the rest of Europe.
Financial markets could see "flight-to-safety flows that could push up the dollar or other so-called safe haven currencies," she said.
Asked by Republican Senator Dean Heller of Nevada if a Brexit could lead to a U.S. recession, she replied, "I don't think that's the most likely case, but we just don't know what will happen."
Before it's here, it's on the Bloomberg Terminal.
LEARN MORE