RBI's Cash Bonanza Prompts Aberdeen Switch to Shorter Rupee Debt
Liquidity-easing framework is helping the short-end: Aberdeen

'We are overweight on the 5-to-10 year segment,' Dalal says
Fund managers are switching to shorter Indian bonds as the central bank's cash injections drive money-market rates lower.
DSP BlackRock Investment Managers Pvt. is favoring notes in the 5- to 10-year segment, predicting the Reserve Bank of India will infuse as much as 1.5 trillion rupees ($22.2 billion) through open-market debt purchases in the year ending March 2017. Aberdeen Asset Management Plc is switching to securities maturing in 5 to 7 years from longer notes, as inflation risks thwart any rally in bond prices.
The moves reflect confidence that Governor Raghuram Rajan's announcement of his departure from the central bank in September won't bring about sweeping changes to the liquidity-management setup he's put in place, even as investors await news of his successor. The RBI, which resumed bond purchases in December after almost two years amid a prolonged cash crunch, added 714.1 billion rupees in the four months through March 31.
"The liquidity-easing framework should actually allow banks to invest further and is helping the short-end," said Leong Lin Jing, Singapore-based investment manager at Aberdeen Asset, which oversaw $421 billion as of March 31. "Also, in the near term, as investors react to the recent announcement by Governor Rajan, coupled with the Brexit risk, the long-end could be subjected to some selling in light of the uncertainty."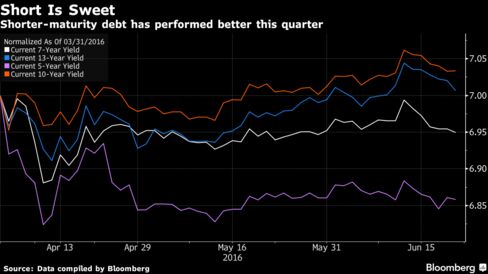 While cutting interest rates in April for the fifth time since early 2015, Rajan announced a series of liquidity measures aimed at bringing the cash deficit at banks closer to neutral from a previous target of 1 percent of their own net demand and time liabilities.
He left the key repurchase rate at a five-year low of 6.50 percent on June 7, while bemoaning the sluggishness of banks in passing on lower borrowing costs. Vegetables and lentils drove overall inflation higher than estimated for a second month in May, raising doubts about the RBI's ability to meet a 5 percent target by March 2017.
"Given that we are not expecting any more rate cuts to come, we don't see scope for much capital gains from the long end of the curve," Aberdeen's Leong said.
'Benefit Most'
A benchmark overnight interbank rate has averaged 6.56 percent so far this quarter, 47 basis points lower than for the January-March period. The yield on the current 10-year benchmark sovereign bond has risen three basis points since March 31 to 7.49 percent.
That compares with a decline of 17 basis points in the five-year yield to 7.43 percent and a drop of six basis points for the seven-year debt to 7.58 percent.
"Government bonds, especially at the belly of the curve, continue to look attractive because you still have overnight rates at 6.5 percent and the 10-year at 7.5 percent," said Gordon Rodrigues, the Hong Kong-based head of Asian rates and currencies at HSBC Global Asset Management. "We like the 5-10 year part of the curve, given that's the point on the curve that will benefit the most from the enhanced liquidity scenario."
After months of goading banks to lower lending rates brought little success, the RBI has bought bonds worth 800.1 billion rupees since April 1.
'Higher Potential'
"We are overweight on the 5-to-10 year segment of the government bond yield
curve," said Dhawal Dalal, Mumbai-based executive vice president for fixed income at DSP BlackRock, which oversees 402 billion rupees.
Consumer prices rose 5.76 percent in May from a year ago, the fastest pace in 21 months, and pressure may intensify on proposed higher pay for civil servants and rebounding oil costs. A strong monsoon, astute food management and expanded supply are vital, Rajan said on June 7. On Monday, he urged his successor to continue the inflation war.
"Longer-end bonds are much more sensitive to inflation and the rates outlook, whereas for the short-end, what really matters is liquidity," said R. Sivakumar, Mumbai-based head of fixed income at Axis Asset Management Co., which oversees about 378 billion rupees. "The short segment, below five years, is where we expect to make more money."
Before it's here, it's on the Bloomberg Terminal.
LEARN MORE