London home builders are counting on a weaker pound to tempt buyers back into the city's beleaguered luxury-homes market if the U.K. votes to leave the European Union.
"We have seen a lot of overseas interest and they are waiting until the result," said Rob Perrins, chief executive officer of Berkeley Group Holdings Plc. "When you have got all these headlines saying that the pound could drop 20 percent or more if we exit, by default people are going to wait and see what happens afterward."
Deals for the most expensive homes in the U.K. capital have stalled in the run-up to the vote. That's added further uncertainty to a market already hit by rising taxes, wider economic uncertainty and the risk of oversupply in some areas. Existing home sales in central London's best districts in April and May were the lowest in a decade, according to broker Huntly Hooper Ltd.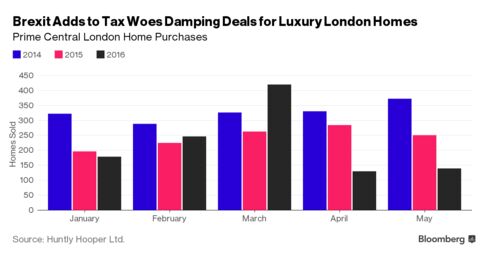 A weaker pound would "be a great opportunity for overseas buyers and I would expect many to take advantage of it, particularly dollar-based buyers," said Spencer Leslie, chief financial officer at prime central London developer Dukelease Properties. "However, a vote to stay will alleviate the uncertainty that has stalled a lot of decisions and release the demand hinged on this week's outcome." The pound jumped the most since 2008 against the dollar on Monday.
Reservations for new homes at Berkeley Group Holdings Plc, the largest London homebuilder, fell 20 percent in the five months through May while buyer inquiry levels remained steady, implying potential purchasers are awaiting the outcome of the vote, Perrins said by telephone on Wednesday. Reservations had fallen 4 percent from November 2015 through February 2016, the firm said in March.
The pound would weaken against the dollar by 10 to 30 percent in the 24 hours after a leave vote, Faisal Durrani, head of research at broker Cluttons LLP, said in a telephone interview. That dip would encourage buyers who have been holding off in order to get a better currency deal, he said. Still, surveys taken after the murder of pro-EU lawmaker Jo Cox signaled the campaign for the U.K to stay in the European Union was gaining momentum.
While a fall in the value of the pound may prompt a short-term spike in demand, a vote in favor of Brexit could lead to a longer-term negative impact on demand and prices, said Alasdair Nicholls, chief executive officer at Native Land, which is developing homes in Mayfair and Holland Park.
London luxury-home sales slowed after a three-percentage-point increase in sales taxes for landlords and second-home purchasers in April damped demand from overseas buyers. It came after the tax on all luxury home buyers was raised in December 2014.
The ratio of buyers to sellers for properties in prime central London has more than halved in the past year to 4.8, according to a May 31 report by Knight Frank LLP. Values fell 4.8 percent in the Hyde Park district and 4.6 percent in South Kensington in the year through May, the broker said.
Overseas buyers accounted for about 47 percent of purchases of the most expensive homes in the U.K. capital in the first quarter of 2016, down from 54 percent the previous year, according to research by broker Hamptons International.
Foreign buyers continue to be attracted to London by its thriving economy, legal system and rising property prices, according to Cluttons. Regardless of whether Britain leaves the EU or not, the U.K. capital will remain the preferred location for wealthy buyers from the Persian Gulf, according to a survey by the broker.
London was favored by 17 percent of the 127 high-net-worth-people surveyed, compared with 16 percent for New York and 13 percent for Singapore.
"Gulf states excluding Kuwait have exchange rates fixed to the dollar," Durrani said. "A vote to leave will certainly make assets in London cheaper still for international buyers."
---
Explore Housing Prices in London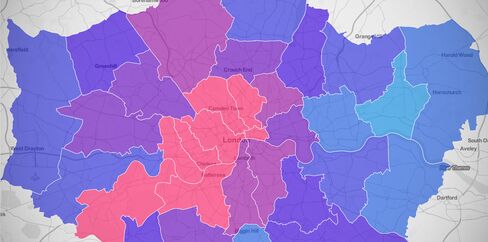 Before it's here, it's on the Bloomberg Terminal.
LEARN MORE