Brazil's Mid-June Inflation Slows More Than All Forecasts
IPCA-15 index shows inflation slowing after recent spike

Slower inflation could make room for monetary easing cycle
Brazil's inflation decelerated more than all analysts forecast in the month through mid-June, providing some relief to the the central bank after several upside surprises in other inflation indexes. Swap rates fell.
Inflation as measured by the IPCA-15 index slowed to 0.4 percent from 0.86 percent a month earlier, the national statistics agency said Tuesday. That compares with the median estimate from 41 analysts surveyed by Bloomberg for a 0.51 percent increase in consumer prices. Twelve-month inflation decelerated to 8.98 percent, its slowest pace since June 2015.
Acting President Michel Temer last week sent to Congress a proposal to cap government spending that could help curb inflation and make room for lower interest rates, currently at their highest level since 2006. The beginning of the monetary easing cycle depends on the extent to which annual inflation continues to slow.
"It will lead to a collective sigh of relief at the central bank, because the pickup in inflation in May was just a blip," Neil Shearing, chief emerging markets economist at Capital Economics Ltd., said by phone from New York. Food inflation "seems to be unwinding and I expect it will continue to unwind, and that will drop the headline rate lower."
Swap rates on the contract due in January 2017 fell 8 basis points to 13.72 percent at 9:59 a.m. local time, as traders bet the central bank will start cutting interest rates in September, according to data compiled by Bloomberg. The real gained 0.6 percent to 3.3752 per U.S. dollar.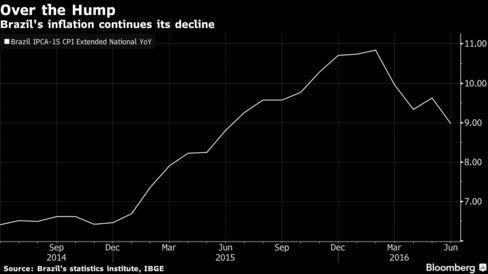 Prices for food and beverages increased 0.35 percent, the lowest rate since September, from 1.03 percent in the month through mid-May, the statistics agency said. Transport prices fell 0.69 percent after a 0.3 percent drop, and the pace of price increases for health and personal care more than halved, to 1.03 percent.
Following a slew of upside inflation surprises, economists have repeatedly boosted their year-end forecast for consumer price increases. After five consecutive weeks of increases, the median forecast is now at 7.25 percent -- still above the ceiling of the central bank's target range. This year, policy makers target a inflation of 4.5 percent plus or minus two percentage points.
Bruno Rovai, Brazil analyst at Barclays Plc, acknowledged the mid-June reading was favorable for the central bank, but said the surprise stemmed mainly from food and beverages, adding he is skeptical it will be maintained.
"This strong deceleration in food prices can be only temporary," Rovai said by phone from New York. "I'm not changing my June forecast unless we see this downward trend is consistent with the next few readings we have on a weekly basis."
Before it's here, it's on the Bloomberg Terminal.
LEARN MORE