Redstone Says He's Offended by Claim of Daughter's Influence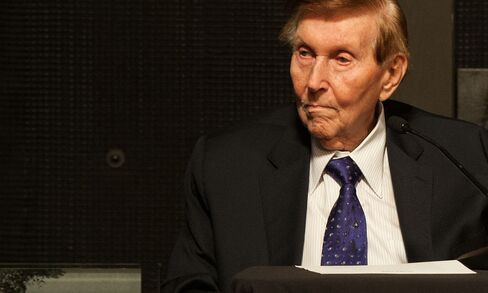 Billionaire, Viacom CEO battling over control of media empire

Redstone asks probate judge to toss Philippe Dauman's suit
Sumner Redstone scoffed at Philippe Dauman's accusation that he's under the influence of his daughter and asked a Massachusetts judge to toss the Viacom Inc. chief executive's lawsuit over control of his media empire.
In court papers filed Monday, Redstone said Dauman's accusation was "offensive and untrue" and urged the court to dismiss an attempt by his former friend to block his removal from a family trust. The filing comes less than a week after Redstone booted Dauman off the media company's board.
A state probate judge in Canton, Massachusetts, is already weighing a request to speed up proceedings in the suit, which was filed by Dauman and company director George Abrams on May 23. The case is one of three pending in different courts over the 93-year-old mogul's and his daughter Shari's control of a $40 billion media empire.
Dauman and Abrams claim that Redstone was mentally impaired when he made the decision to oust them and is being manipulated by Shari as part of her plan to take control of his life and companies. Shari Redstone also asked the Massachusetts court to dismiss Dauman's suit on Monday.
'Different Story'
In a filing supporting her father's request, Shari takes Dauman to task for changing his opinion of Sumner's mental state in a matter of months. Dauman had testified in November in a lawsuit brought by the billionaire's ex-girlfriend, Manuela Herzer, that Redstone was "engaged, attentive and opinionated as ever," Shari said.
Now, "solely to advance his own interests, Dauman has turned on his mentor and long-time friend Sumner, and concocted quite a different story," she said.
Dauman's case is one of several playing out over Redstone's mental capacity and his ability to make decisions about the future of the businesses controlled by his trust, which include Viacom, the owner of MTV and Paramount Pictures, and CBS Corp.
Three Decades
Dauman, whose working relationship with Redstone spans three decades, has been president and CEO of New York-based Viacom for almost 10 years. Redstone said earlier this month that he no longer trusts Dauman or Viacom's board to act in the best interests of the company.
Redstone said he lost faith in Dauman and Abrams when both men ignored his opposition to selling a stake in Paramount. Earlier this month, Redstone's lawyers argued in court in Massachusetts that the billionaire is old but not mentally impaired and the decisions made regarding Viacom have been his own and not his daughter's.
In his filing on Monday, Redstone said his authority to remove trustees is suspended while he is alive only if he is deemed mentally incompetent by a court in his home state of California. His doctor said in court papers also filed on Monday that there are no imminent threats to the billionaire's physical or mental health.
Still, it's recommended that Redstone, who lives in the Los Angeles gated community of Beverly Park, "not travel across the country unless such travel is medically necessary," the doctor said, listing another reason for the case to be heard in California. According to the filing, Redstone has a team of 12 nurses caring for him at home and at least one is present at all times.
Redstone Lawsuit
Redstone filed his own suit last month in Los Angeles seeking approval of his decision to remove Dauman and Abrams from the trust. On June 16, Redstone's National Amusements Inc., Viacom's controlling shareholder, filed a lawsuit in Delaware seeking confirmation of its decision to replace five company directors, including Dauman and Abrams.
A hearing on the bid to throw out the Massachusetts case is set for June 30, while the Delaware court is scheduled to hear arguments on whether or not to speed up proceedings in that case on Wednesday.
Redstone has said that he has support from four out of seven trustees, which means Dauman and Abrams will be out of the trust even if they win their case.
A spokesman for Dauman and Abrams said Monday that Sumner and Shari Redstone's motions to dismiss their lawsuits "represent continued efforts to avoid a fair inquiry into Sumner's well-being and how various documents came to be" and urged the court to allow the case to proceed as quickly as possible.
The case is Dauman v. Redstone, 16-E0020, Massachusetts Probate and Family Court, Norfolk County (Canton).
Before it's here, it's on the Bloomberg Terminal.
LEARN MORE