Shadowbox Is the SoulCycle of Boxing
A new gym in Manhattan allows you to get your aggression out, while burning calories and increasing body tone.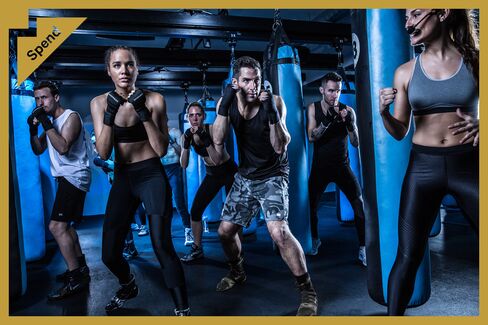 Here's a way to hit without being hit—and get a body like a champ: Go train at Shadowbox.
Think of the new boxing boutique, which opened earlier this year in New York's Flatiron district, as SoulCycle for pushy people. It works the same way: You book your own punching bag online (classes cost $34; a pack of 40 costs $3,000), then show up at the studio, pay $4 for personal hand wraps (the gloves come free or bring your own), and submit yourself to 45 minutes of shadowboxing, heavy-hitting, and ab work in a dark room thumping to Drake.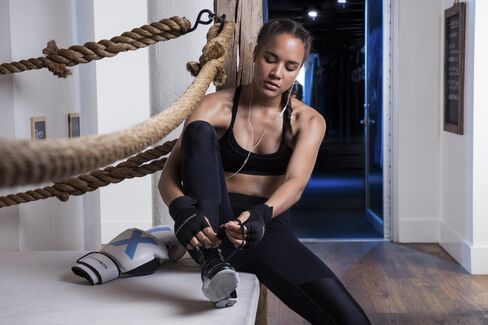 One morning recently an instructor named Julien (tank top, basketball shorts, Public School WNL hat turned backwards) led 20 of us through jabs, uppercuts, hooks, and crosses while never missing a step. We each had our own hand-painted bag hanging from the ceiling as Julien led us through mountain climbers, squat thrusts, and light punch combinations before we moved into the heavy-hitting portion—literally—of the class. He shouted encouragement ("go slow, then let it flow") and instruction ("keep that defensive glove up") that equally benefited beginners (me) and the obvious enthusiasts also in the room.
Shadowbox is a little different from SoulCycle, though—this class at least was fairly split 50/50 between women and men, vs. the predominantly female spinning class. If you don't want to see men dripping sweat, sans shirts, during your 9:30 a.m. fitness routine, do not go here.
In fact, founder Daniel Glazer, 32, who formerly worked in finance, has hired former professional fighters to lead classes, which top out at 40 people. All levels of experience are welcome at Shadowbox, though the emphasis on technique is high. By the end, everyone is soaked to his or her shoes.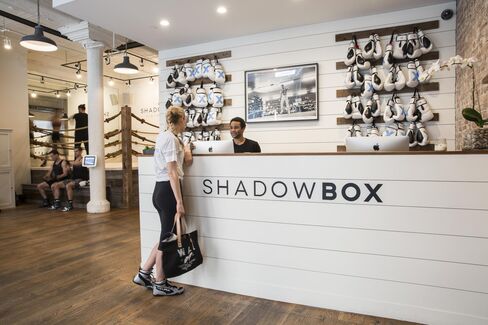 Sweat aside, Shadowbox is considerably more polished than the various other cool-kid boxing gyms that have sprung up in urban centers lately. "Fitness boxing" has been trending since Gisele, Karlie, Gigi, and Adriana took it up several years ago; the tall ceilings, morning sunlight, and modern showers and locker room at Shadowbox looked more like the interior of a day spa than of a fight club.
Framed photos of glory-era Muhammad Ali surrounded a vintage-looking boxing ring at front, complete with ropes, reclaimed wood, and natural ivory canvas. The cafe—Intelligentsia coffee, Kilogram tea, cold-pressed kale juice, baked goods—could have been on any trendy Williamsburg street.
In fact, Glazer is already working on a second location—it's set to open in Dumbo, Brooklyn, later this year.
Before it's here, it's on the Bloomberg Terminal.
LEARN MORE