Canada Corporate Debt Is the Place to Be as Brexit Roils Markets
Domestic investors stash money at home until U.K. votes

Need for 'safety bonds' pushes yields to a 10-month low
Canadian corporate-bond investors are unexpected beneficiaries of the market turmoil leading up to the U.K. vote on whether to exit the European Union.
With risk assets selling off around the world ahead of the June 23 Brexit referendum, the country's fixed-income managers are keeping money close to home. They have driven yields on Canadian dollar-denominated corporate debt to the lowest level in 10 months.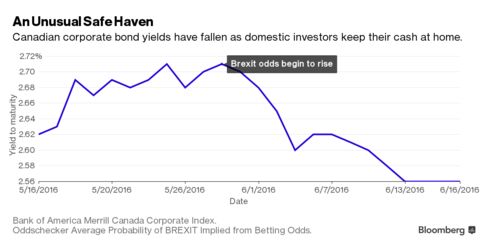 "We just need to have our safety bonds, and to us that's more Canada than it is anywhere else around the world," Sadiq Adatia, chief investment officer at Toronto-based Sun Life Global Investments Inc., which has C$14 billion ($11 billion) in assets under management.
Corporate bonds around the world have rallied, with Japan leading its Group of 10 peers, according to Bank of America Merrill Lynch data, as have typical safety assets such as the yen and gold. Those havens returned some gains Monday as the "stay" camp move back ahead of the "leave" group over the weekend, 45 percent to 42 percent, according to data compiled by Bloomberg.
The iShares Canadian Corporate Bond Index ETF, which touched an 11-month high last week, dropped 0.4 percent Monday, trimming its advance this year to 1.3 percent.
The U.K. has had a fickle relationship with its neighbors across the English Channel for centuries. It joined an EU predecessor group in 1973. Prime Minister David Cameron in 2013 promised a membership referendum if he was re-elected.
Will Britain Leave the EU? For a QuickTake explainer on Brexit, click here
Worries that an exit will hurt the U.K. economy and in particular London's financial district have been countered by those who decry rule from an unelected bureaucracy in Brussels. Both sides returned to action after suspending the campaign for 60 hours after the June 16 killing of Labour lawmaker Jo Cox.
Market measures reflect investor concern. The risk premium on the Markit CDX North America Investment Grade Index, a credit-default swaps benchmark tied to the debt of 125 investment-grade companies, climbed to a one-month high last week. In equities, the fear index remains near an almost four-month high.
That's helped push investors into the relative safety of Canada. The yield for an index of Canadian corporate debt plummeted to 2.56 percent last week, the lowest since August, according to Bank of America Merrill Lynch data through June 17. The Canada 10-year bond yield was at 1.20 percent Monday in Toronto after touching 1.082 percent last week, the lowest since mid-February's bottom in commodity prices.
Blue Chips
Sun Life favors "corporate debt that's tied to companies that are the bigger, blue-chip companies that we know are going to be pretty strong," Adatia said, declining to name specific sectors or companies.
Sun Life doesn't anticipate an interest-rate hike in Canada for a couple of years, and so yields will remain relatively low on Canadian debt, removing the risk of buying corporate bonds, Adatia said. Sun Life's preference has shifted toward longer-dated bonds from short-term, he said.
While Sun Life doesn't expect a Brexit, it "will be a lot closer than people might have expected and that will be enough to scare markets a little bit," he said.
Marc Goldfried, who manages C$3.5 billion as chief investment officer at Canoe Financial LP in Toronto, said he isn't prepared to guess which way the Brexit vote will go and is selling riskier Canadian credits to move up the capital structure.
Buying Opportunity
For example, he said he sold non-viable contingent capital, or NVCC, Canadian bank debt -- bonds that automatically convert to common shares in case of a trigger event threatening an institution's viability -- to buy deposit notes and Canadian government debt.
"You have to keep your risk pretty tight and close to home going into that, and be prepared based on the outcome and how the market trades either to add or subtract credit," he said. Credit holdings are about 74 percent to 75 percent of the portfolio, he said, where at times they represent as much as 90 percent.
Brexit volatility presents a buying opportunity in Canadian high yield, said Barry Allan, founder and chief investment officer of Marret Asset Management Inc.
"We've raised cash going into this and now we're getting pretty close to it and things have sold off, so now it's time to start slowly spending that cash," Allan said. "Our focus is on buying high-yield debt of energy companies because they're the cheapest."
The firm is looking at Canadian energy companies like Baytex Energy Corp. and Meg Energy Corp., as well as energy debt outside of Canada, he said.
High volatility can be expected to follow a U.K. vote to leave the EU, as markets adjust to the new reality. Yet there will also be ramifications if Britons vote to remain in the EU, including the Fed taking on a more hawkish tone, changing risk sentiment again, Canoe Financial's Goldfried said.
"The one predictable outcome," he said, "is we will have volatility."
Before it's here, it's on the Bloomberg Terminal.
LEARN MORE