Brexit Sentiment Leads to Four Losers for Each Winner: Chart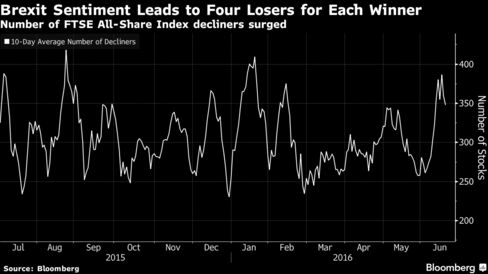 Increasing concern that the U.K. will leave the European Union helped spark a surge in market volatility last week, pushing the number of declining U.K. companies to the most since January. Changes in Brexit sentiment implied by betting odds have led to abnormal returns for 103 of the FTSE All-Share Index's members, according to an academic study. Eighty-one of them were possible Brexit losers, while the remaining 22 were potential winners, the June report by professors at the Universities of Liverpool and Edinburgh showed.
Before it's here, it's on the Bloomberg Terminal.
LEARN MORE