Stocks Gain With Pound, Treasuries Drop as Brexit Concern Fades
Latest poll suggests Britons will vote to remain in the EU

Yen drops with Treasuries and gold as haven demand eases
Global equities had the biggest rally in three months, the pound strengthened the most since 2008 and Treasuries fell on signs the campaign for the U.K to stay in the European Union was gaining momentum before this week's referendum.
The S&P 500 Index climbed the most in four weeks, though gains faded in the final hour of trading amid speculation the rally had gone too far ahead of Thursday's vote and testimony tomorrow by Federal Reserve Chair Janet Yellen. The Stoxx Europe 600 Index notched its biggest gain since August and emerging-market shares rallied. Sterling jumped 2 percent and Spanish bonds gained. Oil advanced with industrial metals, while gold fell a second day.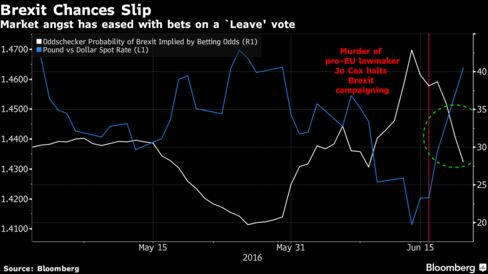 Global equities have rebounded from a four-week low as riskier assets gained, after bookmakers' odds suggested the chances of a "Leave" vote faded since the murder of a pro-European lawmaker on Thursday. A poll over the weekend showed 45 percent of voters backed the 'Remain' camp, while 42 percent were in favor of a so-called Brexit. Yellen testifies on monetary policy before lawmakers Tuesday and Wednesday in a semiannual report. Traders have cut back their bets an interest-rate hike, pricing in less than even odds for an increase as late as February 2017.
"It's more an unwind of the panic we saw last week," Mark Kepner, a managing director and equity trader at Themis Trading LLC in Chatham, New Jersey, said by phone. "It seems to be because of what's changing in the vote. The market was starting to prepare for a Brexit and it seems the polls in the U.K have changed since late last week."
The MSCI All-Country World Index advanced 1.7 percent at 4 p.m. in New York, for its biggest increase since March 11. The MSCI Emerging Markets Currency Index increased 0.8 percent, and a gauge of commodities advanced for a second day.
For more news, analysis and polls on the U.K. referendum, click here.
Stocks
The S&P 500 climbed 0.6 percent for its biggest gain since May 25. It rose as much as 1.4 percent. The index recovered after falling in six of the past seven sessions, a stretch that followed a climb to within 0.6 percent of its all-time high on June 8. The benchmark posted its worst weekly retreat since April amid global anxiety that Britain will choose to secede and central banks' efforts to boost growth are losing their potency.
The Stoxx Europe 600 Index jumped 3.7 percent, rallying more in one day than it has in any full week since February and building on Friday's 1.4 percent advance.
All major western-European markets climbed, with the U.K.'s benchmark FTSE 100 Index adding 3.1 percent, while sterling surged. The volume of Stoxx 600 shares changing hands was 29 percent higher than the 30-day average and a measure of euro-area equity volatility slid 10 percent, the most since March.
The MSCI Emerging Markets Index of shares climbed 1.9 percent, the most in more than two months. Benchmarks in Poland and Hungary climbed at least 1.2 percent, while equities in Turkey gained 2.4 percent.
Stocks rose for a second day in Moscow, with Rosneft OJSC jumping 3.7 percent after two people familiar with the matter said Russia is seeking buyers for 19.5 percent of country's biggest oil company.
Currencies
The pound strengthened against all except one of its 31 major peers, rising the most since December 2008 against the dollar. Among Group-of-10 currencies, the Swedish krona, Norwegian krone and Australian dollar all advanced at least 1.1 percent.
"The markets have always been more comfortable with the U.K. remaining in the European Union, hence the boost to risk sentiment now that the 'Remain' camp's campaign appears to be back on track," Kathleen Brooks, London-based research director at Gain Capital Holdings Inc., wrote in a note.
Oddschecker data show less than 30 percent odds of a Brexit, from 40 percent at the close on Wednesday. Federal Reserve Chair Janet Yellen, who's due to address lawmakers this week, said last Wednesday that the British vote was a factor considered by officials as they decided to keep interest rates unchanged.
The yen dropped 0.1 percent to 104.26 versus the greenback, having surged 2.7 percent last week as the Bank of Japan refrained from expanding monetary stimulus at a time when Brexit risk was spurring demand for haven assets.
India's rupee fell 0.4 percent after central bank Governor Raghuram Rajan said he'd step down when his term ends in early September. Nigeria's naira weakened to 260.50 versus the dollar. Central bank Governor Godwin Emefiele announced the end of the currency peg on June 15 after holding the naira at 197-199 per dollar since March last year.
Bonds
Treasuries due in a decade fell, lifting their yield by six basis points to 1.67 percent, the biggest increase in a month. Two-year yields also rose before the sale of $26 billion of the securities on Monday.
The yield on benchmark German 10-year bonds increased two basis points to 0.04 percent, while those on Italian and Spanish securities with similar due dates declined as investors regained confidence to buy higher-yielding alternatives to bunds.
Yields in Japan, Germany and the U.K. slid to all-time lows last week as the potential for a British exit from the EU fueled demand for the safest assets.
Commodities
Gold futures for August delivery slipped 0.2 percent to settle at $1,292.10 an ounce in New York. Bullion rallied to the highest in almost two years last week as global central bankers sounded the alarm that a British exit from the EU could be disruptive to the global economy.
West Texas Intermediate crude climbed 2.9 percent to settle at $49.37 a barrel as the dollar weakened. Oil prices fell to a one-month low on Thursday as speculation the U.K. would leave the EU intensified and central banks signaled their worries about global growth.
Nickel led gains among industrial metals, rallying 1.9 percent in London. Copper added 1.6 percent and zinc rose 0.8 percent.
Before it's here, it's on the Bloomberg Terminal.
LEARN MORE