Pound Becomes Achilles' Heel of U.K. Bonds at Brexit's Precipice
Gilts' haven reputation at risk in this week's EU referendum

Foreign ownership of U.K. debt rose to record $657 billion
The U.K. government-bond market's reputation as a haven in times of global crisis is being put in jeopardy by its currency's vulnerability to the nation's vote on European Union membership.
From World War II through the euro crisis in 2012, gilts rallied on the back of Britain's status as a Group-of-Seven nation with a stable government, a global currency and a capital city doubling as one of the most vital money centers. The U.K.'s appeal only grew in recent years, to the point where foreign investors own 27 percent of its debt, a record 449 billion pounds ($657 billion). So the thought of the pound crashing, should Britain choose this week to exit the EU in a so-called Brexit, is causing more than just lots of hand-wringing.
Big international investors from Loomis Sayles & Co. in the U.S. to Pioneer Investments in Dublin say they're less bullish on the world's fourth-largest debt market. If demand for gilts does fall, that would weaken the U.K.'s finances because it counts on a steady stream of foreign funds to keep financing costs down and deal with fiscal and current-account deficits. While the pound jumped the most versus the dollar since 2008 on Monday, after polls showed the "Remain" campaign regaining the lead, its one-week volatility still exceeded levels reached in the financial crisis.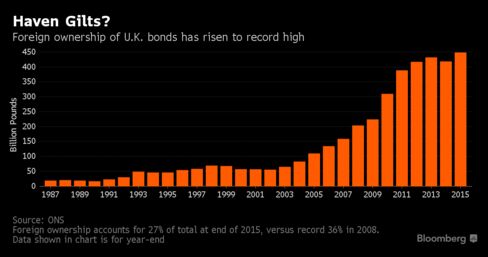 "Money moves away from troubles," said Dan Fuss, the 82-year-old vice chairman of Loomis Sayles, which oversees $229 billion. "Brexit is a meaningful risk to the currency as it will weaken the economy and government. We are very light on sterling assets in our Loomis Sayles Bond Fund,'' which holds record-low 0.95 percent of assets in sterling fixed income.
Aletti Gestielle SGR SpA and Pioneer Investments also say gilts' appeal was damped by prospects of a massive drop in the pound should the EU's second-biggest economy break from the $16 trillion single market. Foreign investors are more sensitive to moves in the pound as their returns may be diminished by a decline in the currency.
Decade's Growth
Their U.K. government-bond holdings today are more than 10 times the 41 billion pounds they owned back in 1995, according to the U.K. Debt Management Office. Excluding the amount held by BOE under its quantitative-easing program, overseas investors control about 36 percent of the total, compared with 19 percent two decades ago.
The Brexit scenario has rattled global markets, as many recent opinion polls on the EU referendum gave an edge to the "Leave" campaign.
The pound surged 1.9 percent to $1.4637 as of 7:29 a.m. in New York. That added to a 1.1 percent jump on Friday. Campaigning was suspended at the end of last week after the murder of pro-Europe lawmaker Jo Cox. The first polls released after the killing showed the "Remain" campaign gaining momentum.
Market gyrations may be limited by central banks providing extra liquidity. BOE Governor Mark Carney said the institution has a "wide range" of contingency plans put in place to support market functioning around the referendum.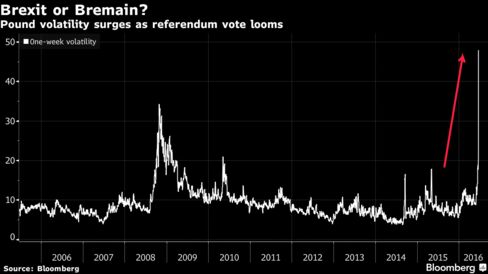 Sterling has proved more sensitive than gilts to shifts in polls during the campaign, with its 2.6 percent decline against the dollar this year through Friday being the only drop among Group-of-10 currencies. Britain's bonds have climbed in recent weeks.
The U.K. currency may drop to a 30-year low below $1.35 if Britons vote for an exit, a drop of about 7.7 percent, according to a Bloomberg survey of economists. To an unhedged investor, the pound's decline this year already has cut U.K. government bonds' 8.6 percent return to 5.3 percent when priced in dollars, and to 1.7 percent in euros, according to Bank of America Merrill Lynch indexes.
Britons will vote June 23 whether to abandon a group they joined in 1973, originally created to further integrate European economies that fought each other in two world wars. Forty-three years later, opponents complain of its rapid expansion that led to an influx of immigrants who strained public services.
'Remain' Argument
The "Remain" camp argues that benefits of being inside the world's biggest trading bloc are vast, such as no tariffs on exports to other EU nations and the free movement of labor.
Sterling is crucial to the U.K.'s haven attraction. Gilt yields dropped to record-low levels last week partly on speculation the Bank of England will cut interest rates in the event of Brexit, yet that might not happen if the pound goes off the cliff, said Mark Dowding, a partner and portfolio manager at Royal Bank of Canada's BlueBay Asset Management, which has $63 billion in assets. Dowding says he's short gilts, a trade that appreciates if their prices fall.
Shorting Sterling
"A decline in sterling will be quite considerable, as capital that's kept here as a safe haven is likely to leave the U.K. in the case of Brexit," said Dowding, who sees the pound dropping to $1.20 in that scenario. "If that is the case, it will be difficult for the BOE to cut rates into the teeth of a sterling crisis, notwithstanding the fact the economy is looking weak."
A "Remain" victory -- which he sees as more likely -- should also undercut the bonds because, ironically, it will reduce demand for haven assets.
Dowding's view on gilts is similar to that of Pioneer Investments, which said it sold them versus U.S. Treasuries.
"As the risk of tightening is not priced in the market, the short end of the gilt market could suffer if the BOE hikes rates to defend the currency," said Cosimo Marasciulo, head of government bonds at Pioneer, which has more than $240 billion in assets. "A rise in U.K. short-term rates could materialize even if the 'Remain' camp wins as the U.K. economy could regain some steam."
Gilt Bulls
Some investors reject this line of thinking.
"There would be no reason to believe that gilts would sell off," said Joe Higgins, a fixed-income manager at TIAA-CREF Bond Fund in New York. His firm expects the securities to appreciate. "There is no reason to believe inflation is going to run up in the period following Brexit. Most of the currency decline is already priced in."
Higgins is not alone. Overseas demand remains resilient. Foreign investors were net buyers of 4 billion pounds of gilts, in the three months through April, BOE data show. Reports for May and June however may paint a different picture, as that's when the "Leave" camp started to catch up and take the lead in opinion polls.
The recent rally took 10-year gilt yields to a record low 1.068 percent last week. Two days of increases took them to 1.22 percent on Monday. Two-year note yields jumped six basis points to 0.45 percent. The median forecast for two-year yields for the end of September was 0.55 percent.
Default Swaps
As the vote approaches, cracks are starting to surface. The cost of insuring against a U.K. sovereign default climbing to the highest level in almost three years last week, while the same metric for German bonds was little changed in the past two months.
To Loomis Sayles' Fuss, geopolitical security is the most important consideration. As a boy growing up in the U.S. city of Milwaukee who lost a relative in World War II and saw a big influx of postwar European immigrants, he said a weaker Europe would be "very bad news" for the world as it will undermine both Britain and the EU.
"The most important thing from an investment view point is peace, or lack thereof," said Fuss. "A 'Leave' vote may undermine sterling assets, but the real impact will go well beyond that. You only need to look at the world map for five minutes to understand why we need stronger Europe and not a fracturing one."
Before it's here, it's on the Bloomberg Terminal.
LEARN MORE