By the time interior designer Jacques Grange first entered the contemporary, bayside house at 1320 Flying Point Road, it was nearly complete. What he saw was "like a boat, very pleasant but dominating the view," he said from his Paris office during a phone call. His decorating approach—chairs by Marcel Breuer, a sofa by Tobia Scarpa, and light, sisal rugs—was accordingly spare. "I stayed very minimal and respected the art and the ocean," he said.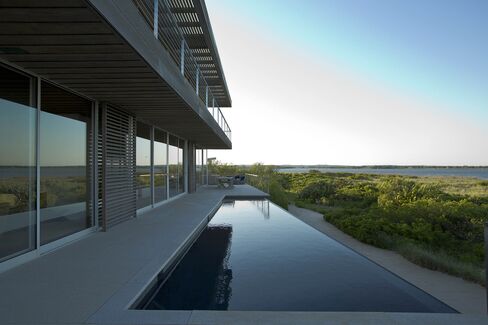 Completed in 2010, the house, positioned in Water Mill, N.Y., on a thin piece of land between Mecox Bay and the Atlantic Ocean, is on the market for $15.9 million. "You have no one blocking your view," said Grange. "It's wild. It's not the regular Hamptons view. You feel alone."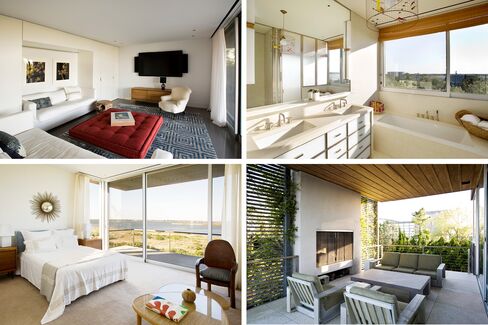 Crafted by Fred Stelle of Stelle Lomont Rouhani Architects, a Bridgehampton firm known for its spare, glassy aesthetic, the house has a little more than 4,600 square feet and sits on a modest lot of .37 acres. Who needs a yard when you have miles of beach in front?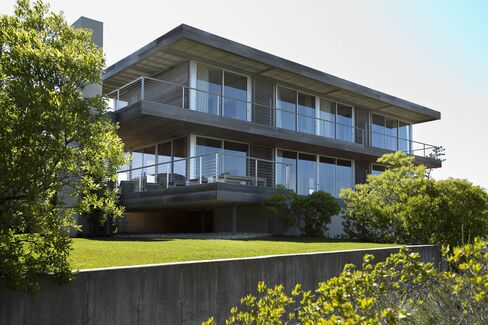 Grange said he created an interior that is "something fun, cozy, and easy to live with." The main floor, clad in granite floors with radiant heat, is laid out in an open floor plan with a large living room, dining room, media room, and office. Floor-to-ceiling windows provide ocean and/or bay views from every room, while the ceiling of the main floor has beach-y, light wood paneling.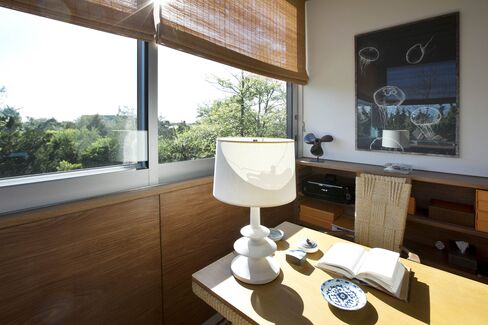 The master suite is located on the floor above; it has two walk-in closets, an en suite bathroom, and a massive, wrap-around terrace. That top floor also contains four additional bedrooms, all of which boast similarly sweeping water views. (Guests and/or children also have access to the terrace.) "It's a family home," said Grange.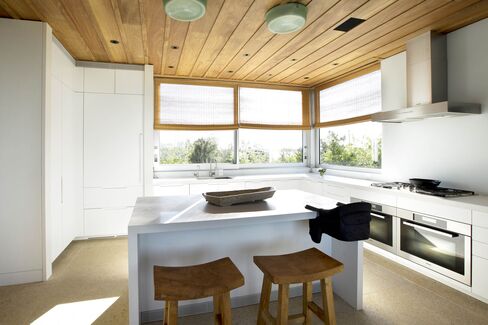 Outside, a series of terraces lead to an infinity pool. There are two outdoor fireplace areas, a lawn, and a private path leading to both bay and ocean.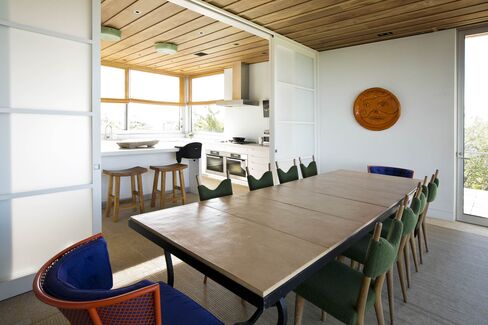 As the slowing of the Hamptons real estate market, prospective owners find the house at a significant discount from its original ask. The property was first listed in 2014 for just under $20 million, according to Street Easy. A year later, the price was reduced by $2 million; this year, it dropped by a further $2 million.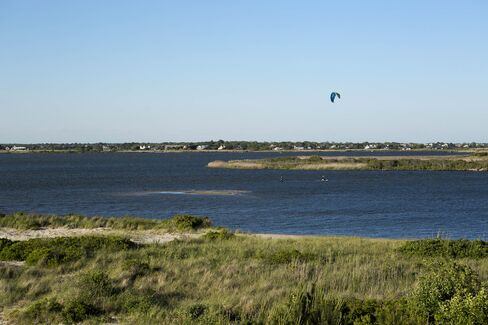 Its price is within range of nearby homes. Another contemporary house on Flying Point Road is listed at $25 million after dropping its price by close to $5 million, according to Zillow. A smaller, more traditional neighbor is listed for $12.75 million.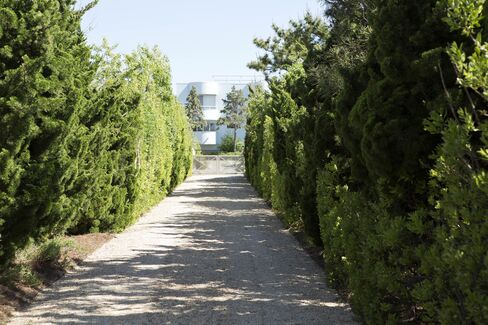 Despite the house's sleek lines and lofty price, Grange describes it as informal. "I don't like beach houses too sophisticated," he said. "I want them easy to live in." The house is listed by Michaela Keszler at Douglas Elliman.
Before it's here, it's on the Bloomberg Terminal.
LEARN MORE