U.S. Stocks Resume Slide as Technology, Health-Care Shares Weigh
S&P 500 caps second weekly decline, biggest since April

Housing starts, building permits little changed last month
U.S. stocks retreated, sending the S&P 500 Index lower for the sixth time in seven days, amid selling in health-care and technology shares that have been the market's weakest all year.
Apple Inc. posted its biggest slide in five weeks, dragging down the tech group after regulators in China said the latest IPhones violated a design patent of a Chinese company. Google parent Alphabet Inc. and Merck & Co. fell more than 2.7 percent, while the Nasdaq Biotechnology Index slid 2 percent to mark the longest losing streak in 20 years. Commodity shares rallied with crude oil, helping to lift equities off the worst levels of the day.
The S&P 500 declined 0.3 percent to 2,071.22 at 4 p.m. in New York, resuming a slide after rising Thursday to halt the longest stretch of losses since February. The gauge posted the second consecutive weekly drop, falling 1.2 percent. The Dow Jones Industrial Average lost 57.94 points, or 0.3 percent, to 17,675.16. The Nasdaq Composite Index sank 0.9 percent to the lowest since May 23.
"The market is nervous about valuations in general, they're still nervous about the Fed and what they're going to do, and what Europe is going to do," Thomas Garcia, head of equity trading at Thornburg Investment Management Inc. in Santa Fe, New Mexico, said by phone. "There's a lot more to worry about than just Brexit. We just can't break these levels either way, and we're just trading in a range."
About 9.1 billion shares traded hands on U.S. exchanges, 30 percent above the three-month average after a quarterly event known as quadruple witching, when futures and options contracts on indexes and individual stocks expire. Some of the biggest instruments for protection against losses in equities rolled over just a few days before the U.K.'s referendum on secession, an event that forces would-be hedgers to take up new positions.
Equities were whipsawed Thursday, erasing losses that had reached 1 percent, after both sides on the Brexit issued suspended their campaigns following the murder of Labour Party lawmaker Jo Cox, who was a "Remain" proponent. The event shifted investor sentiment after a series of polls in recent days indicated more Britons favor leaving the EU. Stocks in Europe rose Friday as Brexit concerns abated and energy shares followed oil higher.
"When you look at the difference in markets between the U.S. and Europe, for the past week the U.S. has gone down significantly less than Europe," said Walter Todd, who oversees about $1.1 billion as chief investment officer for Greenwood Capital Associates LLC in South Carolina. "So you may just be seeing a relief rally in Europe, and even with the U.S. down it's still outperforming international markets for the past week."
Bookmakers' odds today indicated a lower chance of the "Leave" side winning. Federal Reserve Chair Janet Yellen and central banks in Britain, Japan, Canada and Switzerland have warned this week over the potential for economic damage in the event of a secession.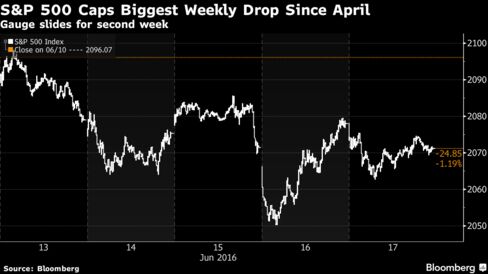 Meanwhile, investors have been bracing for turbulence like never before. Trading volume for securities linked to the CBOE Volatility Index surged to a record high this week. The measure of market turbulence known as the VIX edged up 0.2 percent Friday to 19.41, bringing its monthly gain to about 37 percent, on track for the most since August.
Concern that Britain will exit the union, and thereby weaken the global economy, has weighed on financial markets ahead of the June 23 vote, with the S&P 500 headed for its biggest weekly decline since April. Investors were also unnerved by a mediocre growth outlook implied by Yellen's dovishness after Wednesday's Fed meeting, as well as a lack of action from other prominent central banks that fueled perceptions policy makers are increasingly at a loss about what to do in the face of a struggling global economy.
A report today showed new-home construction in the U.S. was little changed in May, a sign the residential real-estate industry's contribution to economic growth in the second quarter will be muted. The chances of a July boost in borrowing costs have fallen to 6 percent, from about 16 percent before the Fed this week scaled back its projections for increases. Odds of a move only rise to about 40 percent for as late as February 2017.
Recent Retreat
The S&P 500 has slipped 2.3 percent since June 8 when the benchmark came within 0.6 percent of its record set almost 13 months ago. Brexit worries have stymied the latest run toward the all-time high after the gauge rallied as much as 16 percent from a 22-month low in February, boosted by crude's recovery from a 12-year low and optimism that a mix of low rates and moderate economic growth would continue to support higher share prices.
In Friday's trading, five of the S&P 500's 10 main industries declined, with health-care and technology companies dropping at least 0.9 percent. Consumer staples, one of yesterday's rally leaders, retreated 0.5 percent. Energy stocks rose 0.8 percent, while raw-materials and phone companies climbed at least 0.4 percent.
Merck saw the steepest slide in four months amid analyst comments on sales for a hepatitis drug. That combined with a ninth consecutive decline for biotechnology shares to send the health-care group to the worst day in more than a month. Pfizer Inc. and Bristol-Myers Squibb Co. lost more than 1.4 percent.
Alphabet slumped to the lowest in nearly two months, joining Apple as the biggest drivers of losses in tech, following comments on search trends from Citigroup Inc. Activision Blizzard Inc. and Visa Inc. fell more than 1.7 percent. Offsetting some of the declines in the group, Oracle Corp. added 2.7 percent after reporting sales that topped analysts' estimates as cloud-based products picked up momentum with corporate customers.
Energy Rallies
Energy shares rallied to halt a seven-day drop, the longest since August. Crude jumped the most in two months, rising 3.8 percent as a weaker dollar bolstered the appeal of commodities. Murphy Oil Corp. added 4.9 percent, and Transocean Ltd. gained 7.5 percent.
Among other shares moving on corporate news, Revlon Inc. advanced the most since February after a deal to acquire Elizabeth Arden Inc. for about $419 million, a wager that uniting two aging cosmetics giants can reinvigorate both companies' brands. Elizabeth Arden Inc. surged 49 percent.
Smith & Wesson Holding Corp. jumped 8.7 percent, its best day in five months, after predicting firearm demand would hold strong -- regardless of any fallout from the mass shooting in Florida -- and two research firms upgraded the shares. The company's quarterly results also beat estimates.
Lumber Liquidators Holdings Inc. soared 19 percent, the steepest climb this year, after regulators ended a probe of formaldehyde in the company's flooring without issuing a product recall.
Before it's here, it's on the Bloomberg Terminal.
LEARN MORE