Nordea Global Strategist Sees No Relief in Sight for Stocks
Scandinavia's biggest bank has a bleak outlook for global stock markets, no matter what the outcome of key events such as Britain's vote on the European Union.
Even if the U.K. votes to stay in the EU, "there won't be a big party," said Michael Livijn, chief investment strategist, whose decisions guide $100 billion worth of investments for Nordea's wealthiest clients.
Global stocks are only set to rise about 2-3 percent through the end of the year even if the EU remains intact, he said. "A Bremain won't be a silver bullet." Nordea predicts that companies will struggle to meet exaggerated analyst expectations for profit growth in the second half of the year.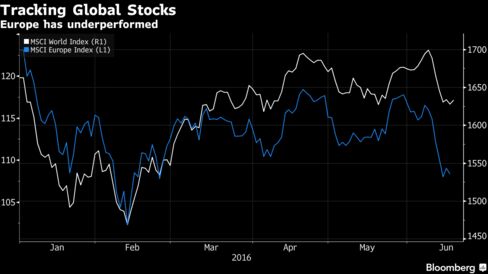 The MSCI World Index has lost about 2 percent this year, after slipping just under 3 percent in 2015. The MSCI Europe Index is down 12 percent in the period.
In the U.S., where more than half of the world's stocks are traded, rising wage costs have dented margins as companies find it hard to hike prices," Livijn said. "We've also seen negative sales growth for a number of quarters, which companies have compensated for by streamlining and cut backs." What's more, U.S. businesses are doing fewer share buy-backs, he said.
History would suggest that analysts have a habit of being too optimistic. Between 1970 and 2015, analysts at the start of the year expected average S&P 500 profit growth of 14 percent for the full year. Actual growth rates in the period averaged 6 percent.
"If we reach zero percent, in other words unchanged profits, I think we should be very happy," Livijn said.
According to Livijn, "the least bad option" for stock investors is to buy in Europe, since profits there are still well below their pre-financial crisis peak levels.
Before it's here, it's on the Bloomberg Terminal.
LEARN MORE