VW's Europe Market Share Stuck at Five-Year Low Amid Scandal
Carmaker's 5-month sales rose 4.9% versus 9.7% market growth

Industrywide May registrations jumped 16% amid economic boost
Volkswagen AG's European market share contracted by the most since December last month as the lingering effects of its emissions-cheating scandal prevented the German carmaker from taking advantage of improving sentiment among auto buyers.
Five-month sales by the Volkswagen group, including the Skoda, Seat and Audi brands, amounted to 23.9 percent of new registrations in the region, the lowest for the period since 2011, versus 25 percent a year earlier. Industrywide sales jumped 9.7 percent to 6.58 million vehicles, with Volkswagen's growth lagging behind at 4.9 percent, the European Automobile Manufacturers' Association, or ACEA, said Thursday in a statement.
Stimulus measures by the European Central Bank helped boost economic confidence in May to a four-month high in the countries that share the euro. That contributed to demand for cars at Renault SA, Fiat Chrysler Automobiles NV and BMW AG, which are luring customers with new sport utility vehicles. In contrast, growth at Volkswagen has been held back by recalls and lawsuits that have kept the emissions-manipulation issue fresh in buyers' minds nine months since it came to light. The manufacturer is unveiling a revamped strategy on Thursday in an effort to move beyond the scandal.
"The main reasons for the auto market's strong gains are stable economic developments, low interest rates and a largely comfortable consumer climate," along with low fuel prices, Peter Fuss, a German partner at consulting company EY, said in a statement. At the same time, "many carmakers are granting high rebates or bolstering figures with self-registrations, at the expense of their margins."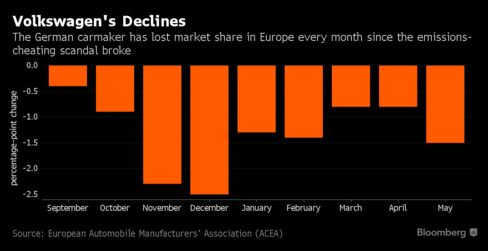 Volkswagen was less aggressive than competitors at discounting in its home country last month, according to figures from trade publication Autohaus PulsSchlag. Rebates across the market averaged 12.3 percent in May, with Fiat offering 15.3 percent off the list price. The VW brand's discounts amounted to 11.8 percent.
"The data that we have gathered suggests a mixed picture in May" for carmakers' pricing, "with discounts generally up slightly in Germany, flat in the U.K. and down in France for both the mass market and premium segments," Kristina Church, Alexis Albert and Charles Coldicott, analysts at Barclays Plc, wrote in a report.
The Brussels-based ACEA compiles sales figures from the 28 European Union countries, excluding Malta, as well as Switzerland, Norway and Iceland. Registrations in May jumped 16 percent to 1.33 million cars in the 33rd consecutive month of growth. The increase was bolstered in part by extra sales days versus a year earlier. Demand gains in 2016 prompted the association in early June to raise its full-year EU car-market growth forecast to 5 percent from 2 percent.
Volkswagen's group sales in May rose 8.8 percent, with growth held back by an increase of less than half that pace at the namesake VW brand and a decline at the Seat unit. The company's market share in Europe, which narrowed in May to 24.2 percent from 25.7 percent a year earlier, has declined every month since the diesel-manipulation revelations in September and has been at a five-year low since the first quarter.
Consumers might "still take some time" to return to Volkswagen after the cheating revelation, said Klaus Breitenbach, an analyst at Baader Bank AG, who estimated the German carmaker's sales could underperform the market for the rest of this year.
Of the top 10 carmakers selling autos in Europe, five reported higher-than-average growth in May. Registrations in the region by French manufacturer Renault surged 28 percent last month. The company has been winning buyers with the compact Kadjar SUV, introduced last year, as well as the Captur crossover and Clio hatchback.
Fiat Chrysler's European sales jumped 25 percent, bolstered by demand for Jeep models. Luxury-vehicle maker BMW, which said a week ago that global demand last month was propelled by its X1 small SUV and van-like 2-Series, posted a 20 percent groupwide gain in the region.
Before it's here, it's on the Bloomberg Terminal.
LEARN MORE