Auctions yielding record-low bids to build solar farms

Industry concerned projects pay too little to make money
The latest mechanism designed to support solar power is proving wildly successful in squeezing down the cost of energy. It's also threatening to destabilize the renewable-energy industry.
From India to Mexico and the United Arab Emirates, authorities are moving away from making fixed subsidy payments for clean energy and toward a system of auctions. The new system forces companies to compete for contracts to sell electricity and has resulted in offers to supply photovoltiac power at record-low rates this year. Bigger markets including Germany and Japan will start the practice next year.
Governments shifted toward auctions to rein in the uncontrolled booms that came everywhere that traditional subsidies were tried. While the new mechanism has produced a bonanza of contracts for well-capitalized developers, industry executives are concerned that many of the projects won't make money or get built, endangering company finances and national green targets.
"You don't want to end up in a situation where companies go bust and you have a non-sustainable way of setting the right price level in the industry," Samuel Leupold, vice president of Denmark's biggest utility Dong Energy A/S, said in an interview in London.
Click here for a GIF graphic showing when nations adopted auctions.
For consumers, auctions are accelerating the decade-long plunge in the cost of solar power, bringing it within striking distance of plants fired by coal and natural gas. Worldwide, coal plants generate electricity for as little as $34 a megawatt hour and natural gas for $47, according to Bloomberg New Energy Finance.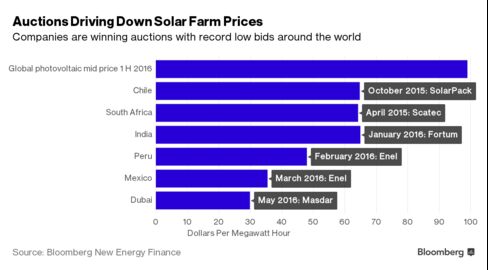 Auctions typically have developers bidding down the price at which they're willing to sell power from their planned projects. The lowest bids win long-term contracts to sell energy at that price, and the companies can then move forward with building the plants.
In March, a unit of Italy's top utility Enel SpA agreed to sell solar in Mexico for $35.50 a megawatt-hour. And in May, Masdar Abu Dhabi Future Energy Co. and Abdul Latif Jameel of Saudi Arabia bid for a photovoltaic project in the United Arab Emirates that set a global record with offers to supply solar power for as little as $29.90 a megawatt-hour. Fortum OYJ won recent auctions in India, pushing a sharp drop in prices there.
Auctions are gaining popularity, spreading to 40 countries. The impact has been stark: Countries that have begun them have seen the cost of renewables fall an average of 35 percent in the first year, according to Michael Liebreich, founder of Bloomberg New Energy Finance. "It's absolutely at the heart of the success of the clean energy sector," Liebreich said.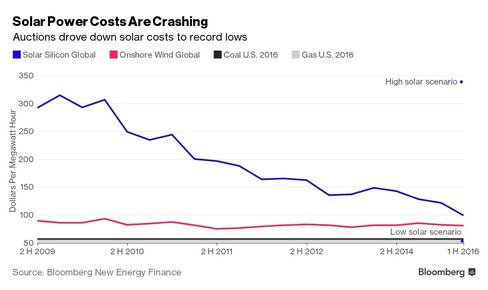 Until recently, most countries spurred renewables with feed-in tariffs -- an above-market rate paid for clean electricity fed into the grid. Pioneered in Germany in 2000, feed-in tariffs revolutionized the industry by guaranteeing a transparent revenue stream for developers.
The downside was that they left control in the hands of project builders -- all who qualified could get the subsidy. More projects were built than the grid could absorb in Spain, Germany, Japan and elsewhere, and governments ended up paying more than they had expected when the programs turned out to be more popular than anticipated. Power prices soared. Auctions are catching on as an alternative support mechanism.
Auctions force developers to compete for contracts to sell electricity and give authorities sole control over scale, pressuring developers to bid as low as they dare. While larger utilities can take the pain of contracts with little margin, each contract is more important to smaller companies. There are mixed views about how sustainable the new system is.
Unviable Projects
Michael Polsky, chief executive of one of the largest private clean-energy companies in North America, Invenergy LLC, bid unsuccessfully at Peru's auction in March. He doubts the winning companies can profit from their offers. "None of them are financially viable," Polsky said.
Francesco Venturini, CEO of Enel Green Power, maintains his company can deliver on its promises. "I have two investment committees and two boards of directors I need to present my projects to," Venturini said in an interview. "They want to see the money attached to it. So, trust me, there is margin."
Matt Rennie, global partner and energy adviser for the consultant EY, said that auctions are bringing "healthy competition" now, and "there's always a tendency if you're losing to think that things are unfair."
Fierce competition already is roiling the renewables industry in India. When SunEdison Inc. pushed the fast-growing solar market, the now-bankrupt developer won an auction by offering some of the lowest prices. Now, those projects are in limbo as SunEdison seeks equity partners to help it deliver 2.4 gigawatts of capacity it contracted to build there. Other developers that could have finished the projects lost out in the auction. The incident is a threat to Prime Minister Narendra Modi's goal to trim pollution by spurring solar.
Aggressive Pricing
Companies are basing their low bids, in part, on projections that equipment prices will continue to fall sharply in the next three years, said Lilian Alves, an analyst at Bloomberg New Energy Finance. A big piece of that is how much developers expect panels to cost when they start building, said Tom Werner, chief executive officer of SunPower Corp., which is majority-owned by the French oil major Total SA.
"You do see some very aggressive pricing," Werner, whose company won rights to build 500 megawatts in Mexico's March auction, said in an interview. "You have to really keep on your cost-reduction schedule."
One of the biggest winners has been Enel, which grabbed contracts in Mexico, Peru, Brazil and Morocco. The multinational with more than $81 billion in revenue has advantages over smaller bidders, including the ability to build projects off its balance sheet and avoid financing costs, said Elchin Mammadov, an analyst for Bloomberg Intelligence.
Leupold, the Dong executive, said auctions should have rules to outlaw excessively low bids.
"If we produce train wrecks then that's going to harm the reputation of the technology and the actors in the industry," he said.
Before it's here, it's on the Bloomberg Terminal.
LEARN MORE