Brexit Campaigns Suspended After Labour Lawmaker Jo Cox Shot
MP in critical condition in northern England; details sketchy

Both sides suspend efforts before June 23 EU Referendum
Both sides suspended campaigning on whether Britain should leave the European Union after a lawmaker was attacked in her district.
Jo Cox, a member of the opposition Labour Party, was hospitalized in a critical condition, with the Press Association reporting she had been shot twice Thursday in West Yorkshire, northern England. Local police said they had arrested a 52-year-old man in the area. It was unclear if the incident was related to the June 23 referendum.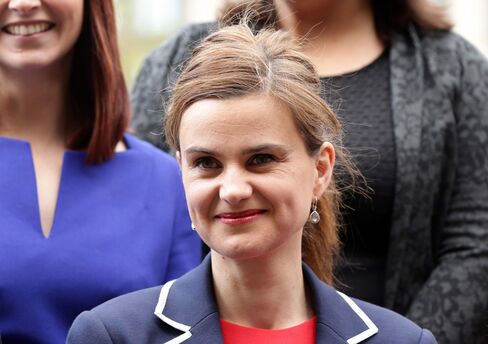 "We are suspending all campaigning for the day," the official Britain Stronger In Europe campaign wrote on Twitter. "Our thoughts are with Jo Cox and her family." Those advocating leaving the EU also put their effort on hold, the BBC reported.
Prime Minister David Cameron canceled a trip to the British territory of Gibraltar, saying on Twitter that "it's right that all campaigning has been stopped after the terrible attack on Jo Cox."
The Guardian reported an eyewitness saying Cox's attacker had shouted "Britain First." That's the name of a group which campaigns against immigration and Britain's membership of the European Union.
A video on the group's website showed activists learning combat techniques at a "training camp" in the Snowdonia mountains of North Wales. In a statement on the site, the group said it "obviously is NOT involved and would never encourage behavior of this sort."
Steady Lead
The attack came as those pushing to leave the European Union held a steady lead in opinion polls. A survey by Ipsos MORI for the Evening Standard newspaper released on Thursday showed 53 percent support for leaving with 47 percent for "Remain," excluding those who said they didn't yet know.
The telephone poll of 1,257 adults, the latest in a string of surveys showing a steady lead for anti-EU campaigners, was conducted from June 11 to June 14. Another poll for IG Group by Survation showed 45 percent for leaving and 42 percent for staying, with 13 percent undecided.
"Until this morning I would have said to you that on the balance of probabilities, 'Remain' were the favorites," John Curtice, professor of politics at Strathclyde University in Glasgow, told the BBC. "We no longer have a favorite in this referendum. There has to be a serious possibility that we will vote 'Leave."'
EU leaders reiterated their desire for Britain to remain a member nation. President Donald Tusk said in Helsinki quitting the EU would be "a huge mistake" and he had an "obligation to be frank and fair with our argumentation."
European Commission President Jean-Claude Juncker, speaking to Bloomberg on the sidelines of a conference in St. Petersburg, had a simple message to voters: "Don't do it," he said.
Cox's husband led the tributes posted online:
Twitter: Brendan Cox on Twitter
Twitter: David Cameron on Twitter
Twitter: Jeremy Corbyn MP on Twitter
Twitter: Diane Abbott MP on Twitter
Twitter: John McDonnell MP on Twitter
Before it's here, it's on the Bloomberg Terminal.
LEARN MORE