Putin Flirts With 'Debt Trap' Amid Pre-Election Borrowing Spree
Government struggling to meet spending commitments to voters

Central bank governor warns against falling into 'debt trap'
President Vladimir Putin's about to go on a borrowing spree.
With Russia struggling to meet spending commitments and elections looming, Finance Minister Anton Siluanov said the government will boost sales of ruble bonds over three years to cover the deficit and preserve the Reserve Fund, a rainy day kitty of foreign-currency assets closely monitored by the president.
The sales will be done "very carefully," Siluanov said on Thursday at Putin's annual forum in St. Petersburg. "The scale of borrowing on the domestic market will depend on the size of the deficit we foresee next year," he said.
Putin has set a goal for the government to cut the deficit to 3 percent of economic output by 2017 from almost 5 percent, but talk of further budget cuts have faded as the country moves closer to parliamentary polls in September and the presidential vote in 2018. Defense, security and social spending account for about 60 percent of all outlays and plans to sell state assets have been repeatedly delayed, limiting the room for maneuver.
With the economy only now starting to emerge from its longest recession in two decades, Putin will use his keynote speech here on Friday in part to urge officials to achieve annual economic growth of 4 percent in the years ahead, according to three people familiar with the matter.
'Debt Trap'
Siluanov's announcement on borrowing came with an immediate warning from an ally on the same dais, central bank Governor Elvira Nabiullina, that seemed to be directed as much at other officials as at investors. Attempts to spur growth through state borrowing will result in a "debt trap," she said, adding that all efforts should be focused on luring private investment.
"State debt means future taxes," said Nabiullina, a former economy minister and Putin aide. "It will have to be paid back."
Putin, who became prime minister a year after Russia's 1998 default and then president in 2000, cut state debt to about 10 percent of gross domestic product last year from about 90 percent in 1999, according to Morgan Stanley. He also instituted a 13 percent flat income tax that pushed the budget into the black.
But those days, like $100 oil, are long gone.
While the ministry's existing target is to sell 1 trillion rubles ($15 billion) of bonds in 2016, all but 300 billion rubles of that will go to retiring maturing debt. Net domestic borrowing may rise to 1 trillion rubles or more next year, Siluanov said in an interview with RBC TV aired on Friday.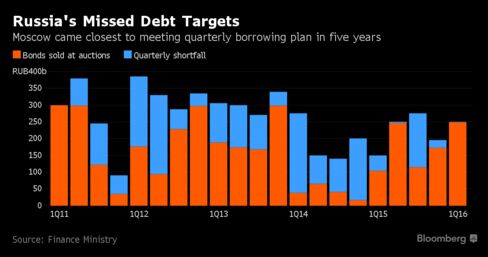 As cheaper oil squeezes revenue, the cost of servicing bonds reached 8.6 percent of budget revenue last year, compared with less than 2 percent at the end of Putin's second term, according to Movchan Advisers in Moscow.
Siluanov has said paying more than 9 percent to sell debt is "expensive," yet that's the current market rate. Government bonds dropped during four of the past five days, with the yield on five-year securities at 9.07 percent on Friday, up from 8.93 percent last week.
Even so, appetite for Russian debt has increased. The ministry basically met its revenue target for bond sales last quarter for the first time in five years.
And last month, the government sold Eurobonds for the first time since the U.S. and the EU imposed financial sanctions over Putin's policies in Ukraine, raising $1.75 billion even after Washington warned banks against participating.
Russian net borrowing on the domestic market can reach 1.5 percent of gross domestic product in 2017 and 2018, according to Economy Minister Alexei Ulyukayev. The country may also sell the same amount of debt abroad in 2017 as it did this year, he said in St. Petersburg on Friday.
"We have many possibilities and, depending on the situation, we'll use them," Ulyukayev said.
Beyond Debt
With all the headwinds, Siluanov isn't counting on debt sales alone to meet Putin's spending goals. If necessary, the government may use its second sovereign-wealth coffer, the National Wellbeing Fund, to cover the deficit next year, according to Siluanov. The $73 billion stockpile was originally created to cover long-term outlays for social spending such as supporting the pension system.
In an opinion piece published in the Vedomosti newspaper on Thursday, the finance minister also called on the government to redouble efforts to eliminate the shadow economy and increase tax receipts.
The amount of salaries companies pay in cash is costing the government as much as 2 trillion rubles a year in lost taxes, Siluanov said.
Before it's here, it's on the Bloomberg Terminal.
LEARN MORE