Congo State Copper Producer Plans Fivefold Output Increase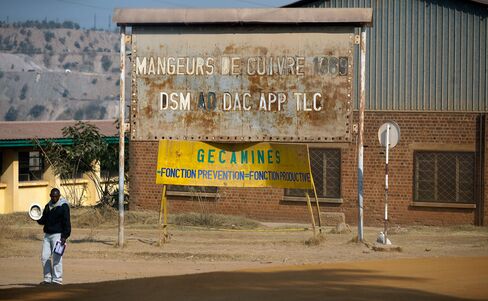 Gecamines plans investment, job cuts to revive operations

Advocacy groups say greater transparency needed for success
Gecamines, the Democratic Republic of Congo's state-owned miner, said it will implement measures to re-establish itself as a major copper producer within three years.
The plan is at least the second attempt to revitalize the ailing company since new management was appointed in 2010. Critics say that to succeed, it has to provide greater transparency on investments, joint ventures and finances.
Gecamines will invest $717 million on new operations at its fully owned properties by 2018 to boost output to at least 100,000 metric tons a year, Jean-Dominique Takis, head of strategy and a board member at Gecamines, said June 14 in an interview in Kinshasa, the capital. The company is also in talks to sign a joint venture by the end of the year with China Nonferrous Metal Mining Group to build a copper-processing plant with an initial capacity of 80,000 tons a year at its flagship Deziwa concession.
Previously one of the world's biggest copper miners, Gecamines produced 476,000 metric tons of the metal at its peak in 1986. Decades of mismanagement have destroyed its infrastructure and depleted cash reserves. Since 2010, the company has attempted to raise money to build processing plants and expand production, but has failed to boost output to a significant level. Last year, the company mined 18,826 tons of copper, up from 7,738 tons in 2014. Congo is Africa's biggest copper producer and the world's largest source of cobalt.
Debt Constraints
Chairman Albert Yuma says that Gecamines' debt, which has fallen to $1.58 billion from $1.7 billion when he took over six years ago, has limited the company's options.
"Not one of the financial institutions that we have approached in this period has accepted to work with us, as our debt levels were prohibitive," he said at a conference last week in Lubumbashi in southeastern Congo. In 2012, Gecamines said it was in talks to borrow $631 million to ramp up annual output to 100,000 metric tons by 2015, but failed to raise the funds.
In the past six years, the company sold assets and pledged existing revenue to fund new initiatives. Advocacy groups, including the Atlanta-based Carter Center, which runs a mining-governance program in Congo, say that to succeed the company must provide more financial transparency.
'Greater Transparency'
"Since 2011, Gecamines has earmarked hundreds of millions in partnership revenue to relaunch its production and today it presents the same production targets it repeatedly failed to reach," said Daniel Mule, head of the center's Extractive Industries Governance Program in Lubumbashi. "Without greater transparency about how it actually allocates and spends its revenues, Gecamines cannot be held accountable to meet these benchmarks," he said in an e-mailed response to questions.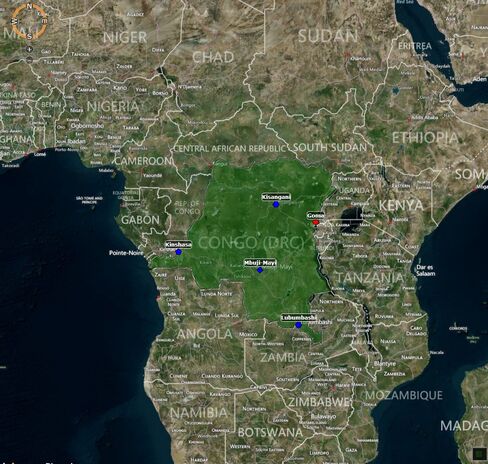 Of the $717 million to be invested in the next three years, Gecamines expects to fund $228 million from its own revenue, $130 million through signing bonuses from partnership agreements and $180 million from the sale of a series of zinc and copper tailings at its Kingamyambo and Lupoto concessions. It would still need to borrow at least $179 million, Takis said.
Gecamines currently earns about $200 million a year from royalties and signature payments linked to its partnerships, but with more than 11,000 employees, operating costs are high, Takis said. In 2014, Gecamines earned $265 million from its partnerships, according to company declarations made to the Extractive Industries Transparency Initiative.
The company plans to cut 2,256 staff who have either reached retirement age or accepted voluntary departure at a cost of $114.8 million to "significantly reduce operating costs," Yuma, the chairman, said last week, without giving further details. The move will bring direct job losses in the mining industry in Congo to more than 5,000 since commodity prices plunged last year, forcing miners to cut costs. An additional 10,000 subcontractors have also lost their jobs, a report published last week by the country's chamber of mines shows.
Restarting Production
Gecamines will spend as much as $35 million to restart copper production at its Shituru plant near Likasi through a partnership with South Africa-based Scorpion Mining Processing, who will have a 24-month contract to update and operate the mine and plant, Takis said.
The state-miner is also in talks with MRI Trading AG about a $10 million offtake agreement from the project that could produce as much as 74,000 tons a year. A further $21 million will be invested in a project called Panda near Kolwezi, which could produce 24,000 tons a year, Takis says.
Achieving output of 100,000 tons would provide the revenue needed to revitalize the company, Takis said.
"With a volume of production completely different and the implementation of our staff reduction program, we can effectively re-engage with lenders," he said.
Before it's here, it's on the Bloomberg Terminal.
LEARN MORE