American Airlines Falls to 20-Month Low After BofA Says Sell
Other carriers decline as analyst trims earnings outlook

Industry ill-prepared to handle shocks to demand: analyst
American Airlines Group Inc. tumbled to a 20-month low after an analyst cut its stock rating and trimmed earnings estimates for the industry, citing recent terrorist attacks, higher fuel prices and a chance the U.K. will leave European Union.
American dropped 4.6 percent to $29.09 at 12:11 p.m. in New York, reaching its lowest intraday price since October 2014. The Bloomberg U.S. Airlines Index fell 2.3 percent, poised to mark its fourth decline in the past five days.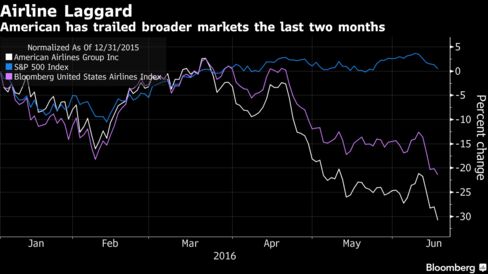 Bank of America Merrill Lynch cut American's stock rating to underperform, the equivalent of sell, from neutral, in part because of increasing debt. American, the world's largest airline, will represent more than 50 percent of the U.S. industry's net debt by the end of 2016, wrote analyst Andrew Didora. Rival carriers, meanwhile, are reducing borrowing. Merrill Lynch cut its price target for American to $27 from $42.
"A revenue environment that is not improving during a time of rising oil prices leaves the balance sheet strategy of American a bigger risk than three months ago," Didora wrote.
American typically doesn't comment on analyst reports, according to a spokesman.
For coverage of how a vote for Brexit would affect airlines, click here.
Rising capacity, combined with stagnant revenue from each seat flown a mile, means airlines are ill-prepared to deal with events that might reduce travel demand, like the attack on nightclub patrons in Orlando and the possibility that Britain will leave the EU, Didora said.
He cut his average estimate for industry earnings per share by 7 percent for this year and 13 percent for 2017.
Before it's here, it's on the Bloomberg Terminal.
LEARN MORE