Sterling Rates Volatility Rises as Polls Show Brexit Tilt: Chart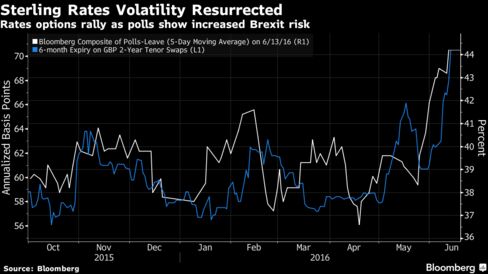 Sterling rate options have rallied this week, after remaining relatively subdued during the Brexit campaign, as polls showed a swing in favor of Britain leaving the European Union. The normalized implied volatility for options expiring in six months on two-year sterling interest-rate swaps, known as 6m2y swaptions, hit a 11-month high Wednesday of 70 annualized basis points. The gamma could face stiff resistance around the area after repeatedly failing to pierce through the 70 level since 2014.
Before it's here, it's on the Bloomberg Terminal.
LEARN MORE