Osborne Seeks 'Remain' Momentum With Post-Brexit Budget Warning
U.K. chancellor to appear with Labour predecessor Darling

Polls show eroding support for staying in EU in final days
The campaign to keep the U.K. in the European Union is seeking to regain momentum with a warning from Chancellor of the Exchequer George Osborne that a vote to leave could create a fiscal crisis, requiring an emergency austerity budget.
Brexit Watch: The pound, the polls, and the probability of Brexit, all in one place
In a speech outside London Wednesday, Osborne will warn of a 30-billion-pound ($43 billion) "black hole" in public finances that would open due to reduced trade and investment, necessitating sharp spending cuts in health, education and defense as well as tax increases. He is due to speak after five of the last six published polls showed the "Leave" campaign ahead with just over a week to go until the June 23 referendum.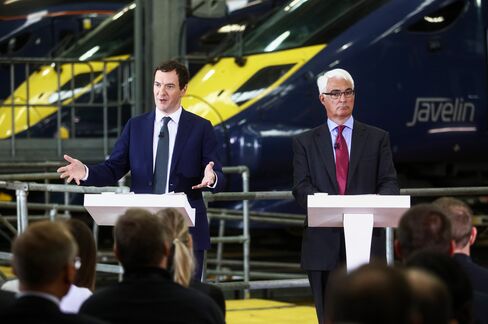 The increasingly confident "Leave" camp is meanwhile laying out its agenda should it win, pledging legislation to restrict free movement and reduce the influence of EU judges, with the goal of negotiating a so-called Brexit by 2019. With a "framework for taking back control" comprising six bills, its proposals increasingly resemble an alternative government platform, highlighting the discord over the EU within Prime Minister David Cameron's Conservative Party.
While they're talking about the next four years, the focus of both sides is the eight days until the vote. The goal of "Leave" is to reassure voters that departure from the EU would be swift but controlled. Osborne's aim is to convince waverers that it will hurt them in the pocket. He's being helped by the opposition Labour Party, which is taking an increasingly prominent role in the campaign and is sending Osborne's predecessor, Alistair Darling, to appear alongside him.
"Far from freeing up money to spend on public services as the 'Leave' campaign would like you to believe, quitting the EU would mean less money, billions less," the chancellor will say, according to his office. That would mean "an emergency budget where we would have to increase taxes and cut spending."
For more on the potential impact of Brexit on Europe, click here
Markets are showing signs of alarm too: about $2.5 trillion was wiped off the value of global equities in the past week and the pound has tumbled. Still, European stocks rebounded with most Asian shares Wednesday, while sterling was up 0.5 percent as of 10:31 a.m. in London.
The latest poll, published Tuesday evening, contained slightly better news for Osborne and Cameron. But the ComRes phone poll for the Sun newspaper still showed momentum is on the other side. It found 46 percent backing "Remain" and 45 percent for "Leave," narrowing a gap of 11 points a month earlier. Nine percent said they were undecided. Before that, five polls in two days had shown "Leave" ahead, by between 1 and 7 points.
Elsewhere on the campaign trail:
The Confederation of British Industry recruited counterparts outside the EU to warn of the dangers to business of leaving the single market
The Labour Party was divided over whether to call for more restrictions to EU migration, with Deputy Leader Tom Watson arguing for a further pledge, and leader Jeremy Corbyn arguing against
Germany's deputy finance minister signaled that Europe's biggest economy would be unwilling to grant the U.K. any favors in post-Brexit talks. "There has to be a difference between being part of the family or just a neighbor," Jens Spahn told ARD Television
As "Remain" keeps its focus on the economic risks of Brexit, it's hoping this week's market turmoil helps make its point. The S&P 500's Brexit-driven losing streak is the longest since February, while Germany's 10-year bond yields have dropped below zero for the first time amid investor demand for safe havens. Japan's benchmark government bonds were also at record lows Wednesday, while the yen hovered near a 19-month high.
Osborne will point to the economic uncertainty of a Brexit, saying that it's "already being seen."
"And by the way, when we walk through that door next Thursday, there is no coming back," he said on BBC radio. "We are not going to be rejoining the European Union in years to come when we think we have made a mistake. It will be a one-way exit, and that is going to live with us for decades to come."
57 Rebels
"Leave" campaigners from the Conservative Party rejected Osborne's threat of further austerity. Practically, it's unlikely he would be chancellor for long if Cameron loses next week's vote. Although Leader of the House Chris Grayling, a pro-Brexit Conservative, said he wanted Cameron to stay on as prime minister in the event of a Brexit, few Tories expect him to last more than a year.
Osborne's warning prompted a reply from 57 Conservative members of Parliament, who described it as "absurd." Were he to proceed with the proposals, "the chancellor's position would become untenable," they wrote in a letter released by the "Leave" campaign. "This is a blatant attempt to talk down the market and the country."
"I am shocked that the chancellor is threatening to break so many key manifesto pledges on which all Conservative MPs were elected," Tory lawmaker Steve Baker said in an e-mail. He said he'd oppose any bid to cut health spending or "increase taxes on hardworking families," and reiterated the "Leave" campaign's promise that more cash would be available for public services outside the EU.
Before it's here, it's on the Bloomberg Terminal.
LEARN MORE