Maturity Dagger Hangs Over China's Bond Market in Second Half
Credit risks are 'dagger hung in mid-air:' Haitong Securities

Chinese firms face record bond maturities in next six months
Investors catching their breath as China's bonds rally are already bracing for a record wave of maturities in the second half this year.
Non-financial Chinese firms have to repay an unprecedented 2.2 trillion yuan ($341 billion) of debt, including 43 billion yuan of notes rated below AAA by China Lianhe Credit Rating Co., Bloomberg-compiled data show. That's up from 2 trillion yuan in the first half. Five-year notes with A+ ratings, which are considered junk in China, yield 463 basis points over top-graded ones, near the highest since 2014, even after corporate bonds rebounded from an April rout.
Haitong Securities Co., the nation's second-biggest brokerage, says credit risks are a "dagger hung in mid-air," as President Xi Jinping seeks to reduce an overall debt pile that's ballooned to 247 percent of gross domestic product. At least 11 firms have missed onshore bond payments this year, more than all of 2015, and issuance is faltering as investors realize the government will no longer bail out every struggling company.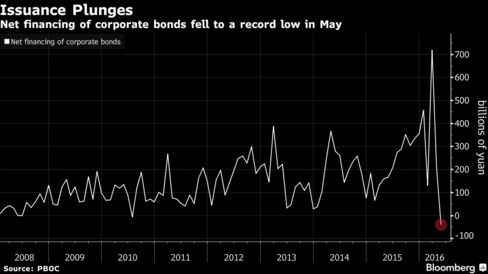 "The first phase of credit risks is there'll be individual cases of defaults by companies whose cash flows are collapsing," said Ji Jiangfan, an analyst at China International Capital Corp. in Beijing. "The second phase is a vicious cycle where lower risk appetite breaks down refinancing, which then pushes up default risks."
China's bond-market boom started unraveling in April as defaults rose and signs of an economic recovery curbed expectations for further stimulus. One-year interest-rate swaps, the fixed payment to receive the floating seven-day repo rate, has risen 20 basis points from end-March, set for the biggest quarterly rise since the last three months of 2014. A bond rally in the past seven weeks has been concentrated on top-rated debt.
"A batch of junk debt arrives to maturity in the third quarter -- potential defaults -- and I believe that a lot of investors want to be out of the market when it happens," said Christophe Barraud, chief economist at Market Securities LLP in Paris. Even so, he added, authorities will limit defaults to sectors with severe overcapacity to avoid rising unemployment or social tensions.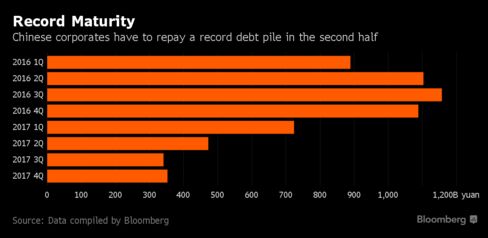 Among industries with too much capacity such as steel, the next bond maturity peak is in August, when about 80 billion yuan comes due, while about 90 billion yuan will mature in both October and November, according to UBS Group AG.
It's not getting any easier for companies to raise money in the bond market. While central bank data on Wednesday showed new yuan loans rebounded in May, net corporate note financing plunged to a record low of minus 39.7 billion yuan as maturing debt outstripped new issuance. As recently as March, that figure had reached an unprecedented 719 billion yuan. China's broadest measure of new credit slowed for a second month.
Regulators also released a plan in April to require banks to make full provisions for loan rights they have transferred to other financial institutions, forcing banks to shrink the shadow lending that kept many distressed borrowers alive. Authorities have been considering setting stricter leverage ratios for mutual funds to limit so-called circular financing arrangements.
Stricter financial regulations "will push up credit risks by making it harder for firms to refinance," Haitong Securities analysts led by Jiang Chao wrote in a note. "It's hard for risk appetite to improve, but the pressure to allocate funds is still there, so safer mid- or high-grade credit and local government financing vehicle bonds will be havens. Credit divergence will continue."
Before it's here, it's on the Bloomberg Terminal.
LEARN MORE