Japan Traders Risk Brexit Pain in Record Pound Bullish Bets
Tokyo margin traders known for favoring contrarian investments

Some bought on dips, may be stuck with losses: Gaitame.com
Japan's retail investors look to have bought the dip in the pound just in time for the currency to fall off a cliff as polls showed Britons may vote to leave the European Union.
Wagers from individuals for sterling to gain against Japan's currency outnumbered bets it would drop by 314,616 contracts as of June 7, the biggest net longs since Tokyo Financial Exchange Inc.'s Click 365 began collecting the data in 2006. That contrasts with global options markets, where the amount wagered on the pound falling to the lowest since the 1980s more than doubled over the past three months.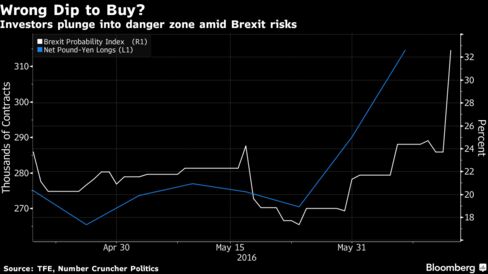 The pound plunged against major peers this month as polls showed the campaign for a Brexit vote garnering momentum. That spurred Japan's individual investors, known for favoring contrarian positions that offer the chance for larger gains, to pile into bets for a rebound. With the U.K. currency extending its slide to an almost three-year low against the yen this week, some of those buyers may be stuck hoping sterling turns around before they are forced to sell at a loss.
"These retail investors, who appear to have bought the pound when it dipped to appealing technical levels earlier this month, may be stuck with unrealized losses now," said Takuya Kanda, a senior researcher at Gaitame.com Research Institute Ltd. in Tokyo. "It is extremely dangerous if they keep their current positions until the referendum."
Investors are responding to the Brexit-related risks by bolstering their protection against sterling declines. They have bet 25 billion pounds ($35 billion) this year on options that would profit if the currency tumbled to $1.35 or lower after the June 23 vote.
In January, South Africa's currency deepened its decline as Japanese retail investors unwound bets it would strengthen versus the yen. The rand slid to record lows at the time amid a commodities rout and political challenges in South Africa.
Ichimoku Signals
Kanda said margin traders seem to have resumed buying the pound around June 2 and 3 when it was near 157 yen, a point on the Ichimoku cloud chart that would signal the potential for a cluster of buy orders that would halt or reverse sterling's decline. Many had shed previous bets on the pound after it rebounded as much as 5.3 percent in May to exceed 160 yen, he said.
The Number Cruncher Politics Brexit Probability Index surged to a record high this week. A slew of opinion polls showed a lead for those wanting to leave, even as the outcome of the referendum remains too close to call. The pound hit 149.20 yen on Tuesday, its lowest since August 2013. It also matched a two-month low at $1.4091.
Kanda expects the pound to hold near its current lows against the yen until June 23 as any rebound before then would be met by fresh selling. Margin traders may be forced to cut losses around 148 yen, about 10 yen below the Ichimoku levels he suspects inspired buying earlier this month, he said.
Ichimoku analysis is used to predict a currency's direction through analyzing the midpoints of historical highs and lows. The cloud refers to the area on the chart where orders may be clustered.
"It's difficult for speculators to further build bullish positions from here," Kanda said. They are trapped in "considerable" dead-end investments, he said.
Before it's here, it's on the Bloomberg Terminal.
LEARN MORE