Billionaire says he sold failed U.K. chain to 'wrong guy'

Green denies scuppering Mike Ashley deal to rescue retailer
A combative Philip Green sought to deflect public criticism that he contributed to the demise of retailer BHS Ltd. and heaped blame instead onto auditors, regulators and his Goldman Sachs Group Inc. advisers after he sold the company "to the wrong guy."
Appearing in front of a parliamentary hearing, the U.K. billionaire told lawmakers that necessary conversations about plugging BHS's pension deficit failed to happen, and that auditors and the program's trustees must subsequently accept some responsibility. Green said he's working on a revised solution to the pension problem, which could crimp the retirement funds of 20,000 current and former employees.
The billionaire's appearance followed weeks of public scrutiny of his role in BHS's collapse, with the retail magnate bemoaning how he was vilified even though he sold BHS to a former race-car driver with no industry experience. The tense mood pervaded the hearing, with a furious Green at one point demanding an apology from a lawmaker who suggested that ego may have gotten in the way of a potential rescue.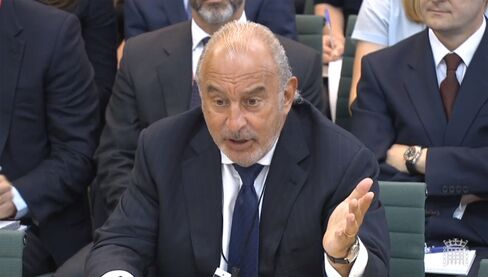 "I made a bad call selling this business," Green said, adding that he had considered buying it back himself and would support any potential suitors who might still emerge.
Race-car Retailer
Two parliamentary committees are looking into Green's role in allowing the pension deficit to rise to 571 million pounds ($811 million) after he sold BHS last year to Dominic Chappell. Green said he hadn't heard of Chappell before meeting him for the first time in February 2015, a month before the sale was announced.
Chappell had to be vetted by Goldman Sachs, who acted as informal advisers to Green on the sale. The billionaire said he didn't meet with Goldman during the sale process, but e-mails from the bank suggested Chappell was an appropriate buyer, he said. Anthony Gutman, co-head of European investment banking at Goldman Sachs, told the panel this month that Green had deemed Chappell not to be a "creditable" purchaser.
Gutman said in a June 1 letter to the committee that his two-month involvement in the sale of BHS was "intermittent." The bank would not comment further Wednesday.
For his part, Chappell told the panels last week that Green blocked a planned rescue of BHS by Mike Ashley, the billionaire founder of Sports Direct International Plc. In a separate hearing last week, Ashley said he wanted to buy the business "100 percent." Green said there was no reason he would have wanted to scupper a deal.
'Stop Staring'
The Monaco-based businessman repeatedly said he didn't know the answer to questions when pressed for details of talks on the pension deficit. "Which bit of 'I don't remember' is difficult for you?" he asked Conservative lawmaker Richard Graham in one exchange. He asked another panel member, Richard Fuller, to "stop staring" at him.
Green had threatened not to appear before the politicians, and has called for the resignation of Frank Field, chairman of the work and pensions committee, one of two groups questioning the owner of Arcadia Group Ltd. Green said Field had already made up his mind about Green's ownership of BHS.
Green, whose wealth is down 25 percent this year to $4 billion, according to the Bloomberg Billionaires Index, also lashed out at portrayals of him in the U.K. press, which has scrutinized his role in the decline of the chain before its sale to Chappell.
"I could have been a murderer the way they are writing about me, though I haven't got any guns," Green said, in an allusion to earlier parliamentary testimony by Darren Topp, former CEO of BHS. Topp said Chappell owned a gun and threatened to kill him in a dispute over a missing sum of BHS funds.
Before it's here, it's on the Bloomberg Terminal.
LEARN MORE