Croat Lawmakers Take Aim at PM and Government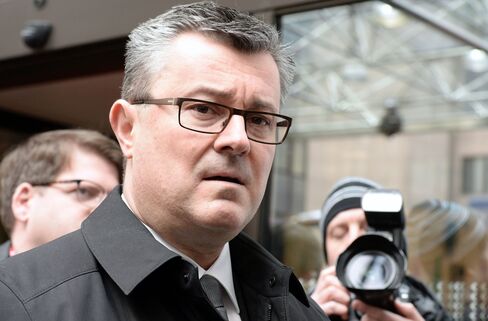 No-confidence vote follows deputy prime minister's resignation

Motion may force new coalition talks or early elections
Croatian lawmakers began debating a no-confidence motion against technocrat Prime Minister Tihomir Oreskovic that, if successful, will bring down his government and stall a plan to overhaul the youngest European Union member's economy.
The bid was launched by the ruling Croatian Democratic Union, known as HDZ, whose leader resigned as deputy prime minister Wednesday after being censured for conflict-of-interest in dealings with Hungarian refiner Mol Nyrt. Speaking to parliament before the vote on Thursday, the prime minister said HDZ had launched the vote because of wrangling over Mol's management takeover of Croatian refiner INA Industrija dd.
"The real reason for the ouster bid against me are disagreements over the issue of INA-Mol and the government's arbitration suit over the issue," said Oreskovic, a former pharmaceutical executive and the Balkan state's first non-aligned prime minister since it split from the former Yugoslavia in 1991. "I have tried to protect Croatian national interests."
The opposition Social Democrats also support the motion and may provide a majority in the 151-seat assembly. If they oust Oreskovic, parties will have 30 days to muster a new majority or trigger early elections. Either way, the crisis is threatening to delay or end a drive to sell state assets, cut costs and streamline the economy after a record six-year recession that ended in 2014.
Worst-Case Scenario
As many as 60 bills have been submitted to parliament as part of the plan, according to Otilia Dhand, an analyst at Teneo Intelligence.
"Early elections would likely be the worst-case scenario for the economic reforms planned by the technocrat cabinet," Dhand said in a note. "The next cabinet could reasonably be expected to be in office only by autumn, postponing any reform drive by several months."
The resignation Wednesday of HDZ leader Tomislav Karamarko accelerated the unraveling of the shaky coalition that has bickered since his party joined forces with the smaller Bridge party after inconclusive November elections. Karamarko is the second HDZ leader to be accused of wrongdoing linked to Mol. The party itself was censured for graft in 2014 and former Prime Minister Ivo Sanader was convicted of bribery and abuse of power in a case that will be retried.
Mol has denied wrongdoing, as has Karamarko, who was also facing a no-confidence vote after newspaper Nacional reported a lobbyist for the Hungarian refiner paid his wife, Ana Saric, for consulting services before they married. The HDZ leader called on Oreskovic, who isn't aligned with a party, and fellow Deputy Premier Bozo Petrov to resign before the vote against Oreskovic.
"The prime minister hasn't treated our party, the biggest party in the ruling coalition, fairly," Karamarko said Wednesday. "We could have done much better."
The crisis has undercut bonds in Croatia, which joined the EU in 2013. The yield on the country's euro-denominated debt maturing in 2025 was little changed at 3.873 percent at 7:08 p.m. on Wednesday, near a three-month high.
Early Elections
Karamarko reiterated that his party can find enough support to form a new administration led by current Finance Minister Zdravko Maric. Still, HDZ Secretary General Domagoj Milosevic said Tuesday they had only 68 votes, too little for a majority. Both Bridge and the Social Democrats have said they won't enter into a new ruling agreement with HDZ.
Petrov, the leader of Bridge, appealed to the HDZ to call off the vote against Oreskovic, and the opposition Labor Party said it wouldn't back the vote.
"Oreskovic is not to bear blame for this crisis," Labor party leader Nansi Tireli said in the assembly. "We don't want to let HDZ get 30 days to form a new government."
Before it's here, it's on the Bloomberg Terminal.
LEARN MORE