Hungary, Romania, Poland relax budget plans as growth slows

Fiscal easing may backfire if growth slows, bond yields rise
After seven lean years, governments in the European Union's east are ready for the fat ones.
Following almost a decade of tightening budgets in the wake of the global economic crisis, governments from Warsaw to Bucharest are raising spending and cutting taxes as they seek to offset flagging foreign demand by ramping up consumption. The threat of widening deficits has sparked warnings from international partners and driven up bond yields across the region.
As the threat of Brexit underscores deepening divisions within the EU, the former communist countries that joined more than a decade ago are also bucking the bloc's rigor. They revolted against German-led refugee policies, while Poland and Hungary have drawn criticism for an erosion of their democracies. Faced with slowing growth, nations including Romania and Slovakia are increasingly relaxing budget discipline after years of scolding and the threats of monitoring by the bloc's executive in Brussels.
"Compared to couple of years ago, there is much less pressure on governments in the region to keep cutting their budget deficits," said Otilia Dhand, an analyst at Teneo in Brussels. "Populism seems to be the political order of the day, mostly as a result of protracted austerity and economic uncertainty."
The International Monetary Fund warned Poland that its budget deficit may widen "significantly" if the government doesn't find new revenue or scale back plans to boost benefits. In Hungary, Prime Minister Viktor Orban has cut taxes and introduced handouts to home buyers, raised health care worker's wages and expanded a rebate to families in an effort to propel growth.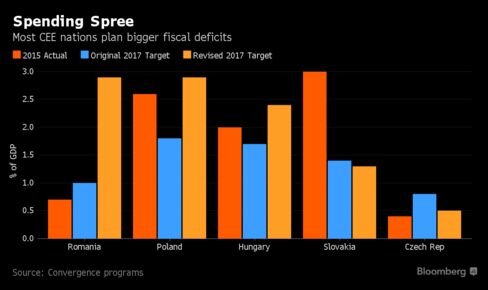 Romania has cut its value-added tax and raised public wages 10 percent over the past year, tripling its 2017 budget deficit target to just below the EU's ceiling. Slovakia last year narrowly escaped breaching the EU's limit despite the fastest economic growth since 2010 and the new coalition government has deferred reaching a balanced budget by a year until 2019.
Investors and rating companies are beginning to notice. The yield premium on Romania's benchmark 2025 euro-denominated bonds compared with corresponding German Bunds rose to a four-month high, and Hungary's spread over U.S. Treasuries is the highest since February. Moody's Investors Service has cut the outlook on Polish debt to negative, pulling up short of investors' expectations that it would follow S&P Global Ratings and downgrade the EU's largest eastern member.
Polish bonds due 2026 yielded 3.257 percent at 3:45 pm in Warsaw, near Tuesday's five-month high of 3.3 percent. The yield on Hungary's 2027 debt was little changed at 3.38 percent, compared with a 2016 low of 2.91 percent in late March.
"Even as Poland's and Hungary's debt to GDP ratios are lower than the euro-area average, it does not mean that they have much more maneuvering space," says Juraj Kotian, an economist at Erste Bank in Vienna. "Although region's bond spreads over Bunds have been continuously narrowing over the last few years, a turn in the fiscal policy may fairly quickly widen them back."
Polish public debt reached 51 percent of GDP last year and Romania's 38 percent, compared with euro area's average of 93 percent. Even at the bottom of the list among the five largest eastern EU economies, Hungary's debt ratio at 75 percent was lower than in all but five western euro-sharing nations.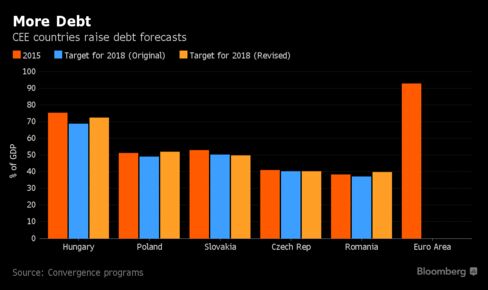 A look at the convergence programs reveals the scope of the fiscal turnaround. Whereas last year Romania was planning to trim the budget shortfall to 1 percent of output in 2017, the new blueprint submitted to the EU targets the deficit at 2.9 percent. The Polish government has also relaxed its budget goal to just below the EU limit, while Hungary is now aiming for a higher shortfall of 2.4 percent of GDP, reversing two years of improvement.
Government officials, loathe to follow the fate of some austerity-minded peers who were voted out across the region after the economic crisis, argue the measures will boost growth and tax revenue.
But with first-quarter GDP data failing to meet expectations in Poland, Slovakia and Hungary, not all policy makers are pleased. In Romania, central bank board member Daniel Daianu warned the country could see its public deficit spike to more than 50 percent of GDP if growth slows.
"It's not going to kill the Romanian economy but it's dangerous," Daianu said in an interview at the Conference of Montreal in Canada this week. "Romania went through a period in the last crisis when budget deficits got out of control and we had to adopt very painful measures. This is why we at the central bank are watching with worry the rise in the budget deficit."
Before it's here, it's on the Bloomberg Terminal.
LEARN MORE