Brexit May Herald Five Lost Years for U.K. Retailers: Chart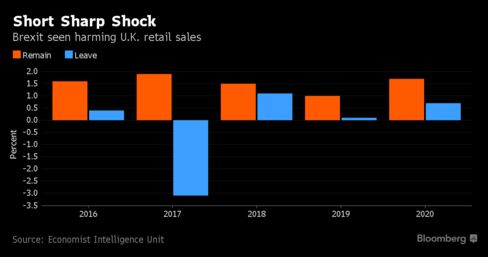 A vote to leave the European Union on June 23 would harm U.K. retail sales over the next five years, according to forecasts from the Economist Intelligence Unit. After a "short and relatively sharp" shock in 2017, growth would remain muted as consumers await the outcome of negotiations and retailers raise prices to offset higher import costs. Brexit would be an additional headache for the retail industry, where intense competition has this year contributed to the demise of BHS and Austin Reed.
Before it's here, it's on the Bloomberg Terminal.
LEARN MORE