Stock Picking Is Now 'Guerrilla Warfare' for Top Japan Fund
Hideto Fujino says he has few hands to play before BOJ meets

Exporters, banks and small-caps are all out for Rheos head
Hideto Fujino, a veteran Japan stock picker, is running out of investment choices before the central bank decides on monetary policy.
"There are few hands to play," Fujino, who runs the $1.9 billion money manager Rheos Capital Works Inc., said in an interview in Tokyo. Finding good bets has "become like guerrilla warfare."
Exporters, says the 49-year-old, are out because the yen has surged. Financial firms are a no-go due to negative interest rates. Even the Mothers Index of smaller shares, which soared as much as 84 percent since February, is no longer a haven from the rest of the market. With whole industries effectively off the table, the challenge is to find individual companies with relatively small downside risk, he says.
It's a common predicament for investors seeking to make money from Japanese equities this year. The Topix index has posted the second-worst drop among 24 developed markets tracked by Bloomberg and the currency has gained about 13 percent against the dollar despite minus rates and record asset purchases. Still, Fujino isn't complaining about the policies of Prime Minister Shinzo Abe or BOJ Governor Haruhiko Kuroda.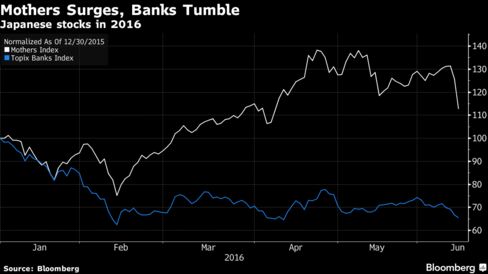 Abenomics, Fujino says, is like a last-ditch treatment for a terminally ill cancer patient. While it has little chance of working, it's better than doing nothing at all. Kuroda has good intentions with negative interest rates -- making companies and individuals spend rather than hoard cash -- but they've scared people into the opposite reaction.
"Whenever something worrying happens, Japanese people bring out their secret weapon: penny-pinching," Fujino said. "They've been putting money in safes, putting it in pots, doing fairly irrational things," he said. "Japanese people have so little financial literacy that they've been doing absurd things."
Fujino sees a 1-in-4 chance the BOJ will add to stimulus at the end of its two-day policy meeting on Thursday. That's up from the 10 percent probability he envisaged before the mass shootings in Orlando, Florida, added to global uncertainty, he said. If the central bank doesn't act this week, there's a 90 percent chance it will do so in July, especially if the U.K. votes to leave the European Union, Fujino said.
He expects a combination of more asset buying and a deeper foray into minus rates, and says that should help weaken the yen and benefit some of the nation's high-tech exporters, such as camera-maker Nikon Corp. and semiconductor-company Screen Holdings Co., both of which he holds. Nikon shares gained 1.6 percent and Screen Holdings added 0.2 percent, while the Topix climbed 0.4 percent on Wednesday.
Tough Year
It's been a difficult year for the nation's big manufacturers, with a measure of carmakers plunging 27 percent. Lenders have done even worse: the Topix Banks Index is down 34 percent. Even the Mothers gauge, one bright spot in Japanese shares, tumbled 14 percent the first two days this week as investors dumped the companies that had spurred its rally.
"Mothers holds the possibility of collapse," Fujino said on Monday before most of the selloff. "A lot of money flowed into it as a haven because it has many IT firms, service firms and others dependent on domestic demand and not so influenced by the external economy or currency fluctuations. But from a valuation perspective, you see companies trading at 80 or 100 times earnings."
Sosei Group Corp., a biotech firm that accounts for about 15 percent of the index, traded at 111 times profit at Tuesday's close, even after falling 23 percent in two days.
Beating Peers
Fujino's Hifumi Fund returned minus 0.9 percent over the past year through Wednesday, beating 95 percent of peers, against a 23 percent drop for the Topix. The fund holds 119 stocks, mostly Topix companies, with service firms, IT and communications shares and retailers accounting for about half of assets at the end of May. It counted Ai Holdings Corp., a maker of security cameras and construction equipment, and Outsourcing Inc., which provides services for manufacturing companies, as its biggest investments. Ai Holdings fell 0.8 percent while Outsourcing was unchanged on Wednesday.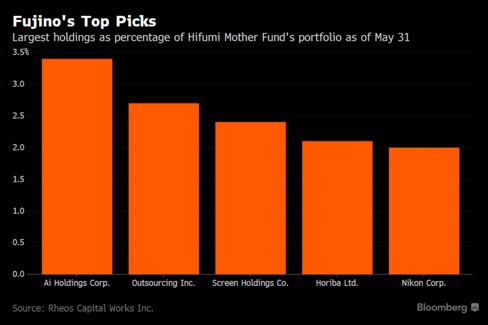 Fujino founded Rheos in 2003 after working at Goldman Sachs Asset Management Co. and spending the 1990s at Nomura Asset Management Co. He's known locally as part of a trio of fund managers dubbed the "herbivore investors" for their work advocating a non-aggressive investment style of adding a small amount to holdings frequently and keeping them for the long term.
In his view, the world has innovation cycles that go on for about a decade, and the last one started in 2007 with the release of Apple Inc.'s iPhone. We're in a period of limbo before the next one, he says, which could be in virtual reality or self-driving cars. In the meantime, given the lack of opportunities available in Japanese equities, the only option is to seek out quality domestic-focused stocks, he said.
"Large caps are a 'no.' Bank stocks are a 'no.' Mothers is a 'no,"' he said. "Plain, down-to-earth companies might get you returns."
Before it's here, it's on the Bloomberg Terminal.
LEARN MORE