Puerto Rico's Bonds Gain as U.S. Supreme Court Voids Law: Chart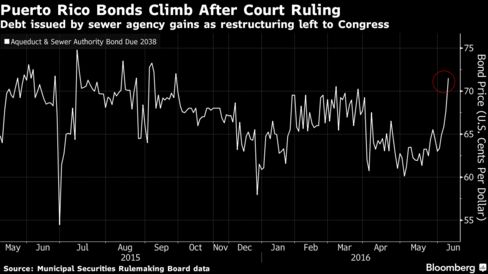 Puerto Rico bond prices gained after the U.S. Supreme Court voided a local law that would have allowed some island agencies to restructure debt in court. The measure, which was challenged by investors, would have strengthened Puerto Rico's power to resolve the debt crisis on its own just as Congress is advancing legislation to empower a federal board to chart a way forward for the island. Investors speculate that the federal panel won't impose losses as deep as Puerto Rico officials would have if the law were left intact.
Before it's here, it's on the Bloomberg Terminal.
LEARN MORE