Non-financial company loans rise 7.8% in 12 months to April

More than 80% of firms' funding now comes from bank loans
Australian companies are depending on bank loans for a greater share of their borrowing needs than at any time in the past four years, with less than a fifth being funded by bonds and short-term paper.
The amount non-financial companies have borrowed from banks climbed 7.8 percent to an unprecedented A$854.4 billion ($630 billion) in the 12 months through April, while the sum owed to investors in fixed-income securities has dropped 4.5 percent to A$211.4 billion, Reserve Bank of Australia data show. The proportion of funding through loans climbed to as much as 80.2 percent in April.
Corporate loan growth in Australia accelerated to its fastest pace in seven years in April as businesses took advantage of cheaper bank lending amid intensifying competition and record low benchmark interest rates. Banks are stepping in to meet business funding requirements to offset a slowdown in mortgages, while long-term projects, which typically tap the capital markets for funding, are declining as mining investment tapers off.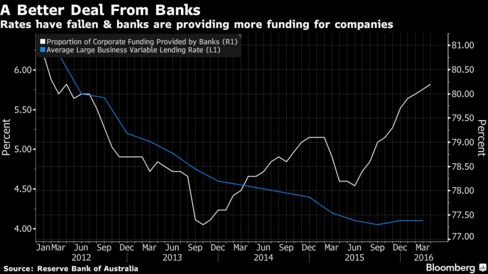 "It appears that corporates can source cheaper funding from banks as debt market credit spreads widened," said Victor German, a Sydney-based bank analyst at Macquarie Group Ltd. "In the first half we saw continuing competition for institutional lending partly driven by aggressive pricing from foreign players, which in turn is putting pressure on the major banks' institutional margins and returns."
The average variable rate for large businesses has dropped to 4.1 percent, versus 5.1 percent on average over the past half decade, Reserve Bank of Australia data show. In comparison, yields on three-year BBB rated non-financial corporate debt stand at 4.3 percent, compared with a five-year average of 5 percent, the data show.
Three of the nation's largest lenders -- Australia & New Zealand Banking Group Ltd. National Australia Bank Ltd. and Westpac Banking Corp. -- recorded a compression of corporate lending margins in the six months ended March 31 and competition is one reason for the decline. Net interest margin for their business and institutional units dropped by a combined average of 8 basis points from a year earlier, according to their filings.
Bank lending to all businesses accelerated 7.4 percent in April, the most since January 2009, according to central bank data. That contrasts with slowdowns in both direct capital markets borrowing by non-financial companies and mortgage lending by banks.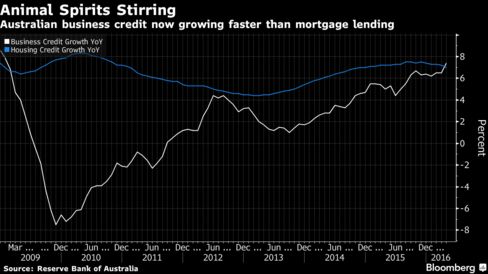 The RBA in May cut its cash rate by a quarter point to a record low 1.75 percent, its first move in a year, and left it unchanged this month. The easing is aimed at cushioning the decline in mining investment and sliding commodity prices, and the move in May took the total reduction since late 2011 to 3 percentage points. Swaps traders were pricing about a 66 percent chance of a reduction by the end of this year as of 2:50 p.m. on Wednesday in Sydney, data compiled by Bloomberg show.
"Banks' share of corporate borrowing is strengthening with mid-sized businesses and corporates driving demand," said Martin Smith, head of markets at East & Partners. "Low interest rates, the need for short-term funding are pushing up demand amid a drop in project funding as expansions or new projects get delayed."
Before it's here, it's on the Bloomberg Terminal.
LEARN MORE