Yen Approaches Strongest Level Since 2014 as Haven Demand Reigns
Brexit turmoil, central-bank meetings bolster refuge allure

Hedge funds added to net bullish bets on the Japanese currency
The yen rallied, approaching the strongest level against the dollar since October 2014, as demand for the safest assets dominates amid unease about the U.K. Brexit referendum in less than two weeks and central bank meetings in the U.S. and Japan.
Japan's currency rose against all major currencies amid selloffs in global stocks. Two new polls by ICM suggested the U.K. is on course to quit the European Union, with both phone and online surveys showing the "Leave" side opening up a 5 percentage-point lead over "Remain." The Federal Reserve and Bank of Japan meet this week, with most economists surveyed by Bloomberg predicting both authorities will refrain from actions.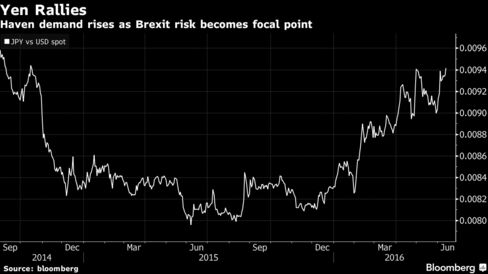 "With the Fed expected to hold the benchmark rate steady this week, the focus has already turned to the Brexit vote even though its still 10 days away," said Jack Spitz, managing director for foreign exchange at National Bank of Canada in Toronto. "Liquidity is already noticeably thinner and the tone is one of risk reduction. A beneficiary of the flow is the yen, and its happening even in the face of a Bank of Japan policy meeting later this week."
Risks to global growth, ranging from weakening demand in China to the future of the European Union, have sent the Japanese currency more than 13 percent stronger this year. The appreciation complicates the Bank of Japan's effort to spur consumer prices higher and generate economic growth through a weaker yen, and raises the specter for more monetary easing this year.
Japan's currency advanced 0.7 percent to 106.26 per dollar as of 5 p.m. New York time. It reached 105.55 last month, the strongest since October 2014. The yen gained for a fifth day versus the euro, appreciating 0.3 percent to 119.99.
The yen is forecast to weaken to 114 per dollar by the end of the year, according to a Bloomberg survey of analysts. Bullish bets on Japan's currency rose to 42,853 contracts, a report from the Commodity Futures Trading Commission showed June 10.
While BOJ policy makers may keep policy unchanged on June 16, twenty-two analysts forecast more easing on July 29, according to a Bloomberg survey conducted last week.
"The yen's latest surge will increase pressure on the BOJ to 'do something' though we suspect they will hold fire," Kit Juckes, a London-based strategist at Societe Generale SA, wrote in a note to clients. "If the BOJ wants to get to avoid the risk of acting and finding markets unresponsive, it needs to do so in less risk-unfriendly markets. These are not easy conditions to undermine a safe-haven currency."
Before it's here, it's on the Bloomberg Terminal.
LEARN MORE