Surviving Basel Getting Harder in World's Oldest Mortgage Market
The chief executive running the biggest lender in the world's oldest mortgage market says the next wave of regulations threatens his industry's future.
QuickTake Capital Requirements
Nykredit A/S warned on Monday that it lacks the capital to meet stricter rules set forth by the Basel Committee on Banking Supervision. Michael Rasmussen, Nykredit's CEO, says the regulatory climate makes it questionable whether the mortgage system in which his firm operates will be able to survive in its current form.
"I hope and think it will survive, but I cannot of course guarantee that it will continue in the format that we are seeing today due to the regulation risks," he said by phone.
Rasmussen on Monday moved his chief financial officer, Soeren Holm, to a new position dedicated exclusively to helping Nykredit cope with regulatory requirements and manage capital. The area needs "maximum" focus, he said, as Nykredit tries to persuade investors it will be ready for an initial public offering in two years. It needs the IPO to help build regulatory capital.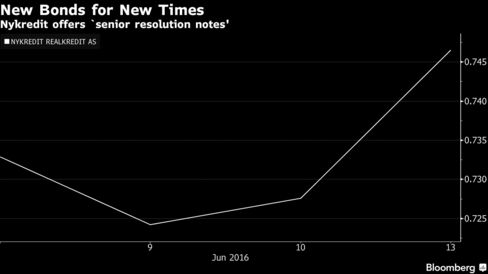 Though there are earlier versions of mortgage-backed covered bonds, such as in Prussia in the 1770s, Denmark is home to the world's oldest such market to have survived without interruption. Its home finance system started in 1797, two years after the great fire of Copenhagen. Even when the Kingdom of Denmark defaulted during the Napoleonic wars in 1813, the country's mortgage finance system continued to honor all payments.
Danish mortgage banks rely almost exclusively on covered bonds to fund loans, with proceeds flowing from investors directly through to homeowners. With relatively few foreclosures and no bank collapses since the industry's creation more than two centuries ago, it hasn't had to hold much capital against potential losses.
But tougher capital and liquidity rules since the 2008 global financial crisis are changing that. Now, focus on resolution, leverage and risk weights -- dubbed Basel IV by the industry -- means mortgage lenders need to assign more capital to back the loans they provide and more debt to absorb losses.
Danish banks won't be the only ones affected. Capital ratios at Dutch banks probably will be "significantly eroded," S&P Global Market Intelligence said last month.
Nykredit said in May it would pioneer a new type of bond to meet supervisors' demands in the form of a senior resolution note, which is intended to function like senior debt while the mortgage lender is in good health, but which can be written down if it goes into resolution.
Nykredit plans to put the instrument to several uses, including meeting over-collateralization requirements for its covered bonds and improving credit ratings. S&P rated the note BBB+ and said European banks are likely to follow Nykredit's lead as countries adopt legal frameworks for the instruments' issuance.
"Being Nykredit, being the biggest lender in the market, with the balance sheet structure that we have, we have a lot of regulation issues ahead of us," Rasmussen said. "We need to explain to the investor the impact there and we need to have absolute maximum focus on these issues."
Before it's here, it's on the Bloomberg Terminal.
LEARN MORE