Here's How the Fed's Unemployment Projections Could Change This Week
The Fed must gauge how low unemployment can sink after May's data matched its year-end projection
How low can you go? It's a topical question as the Federal Reserve meets in Washington this week.
QuickTake Why Full Employment Doesn't Mean No Unemployment
Federal Open Market Committee officials in March projected that the level of unemployment would fall to 4.7 percent in the fourth quarter before rebounding to 4.8 percent in the longer run. But the rate has already hit their end-of-year forecast, causing many economists to expect the committee to revise its median estimate lower in the FOMC's summary of economic projections, which will be released on June 15.
Where the estimates fall could offer a glimpse into policy makers' frame of mind. Here's how the projections could change — and how to read any alteration.
Unchanged projections
When unemployment declined to 4.7 percent in May from 5 percent the prior month, the drop came as a wave of people gave up on working and looking for jobs, pushing down the labor force participation rate.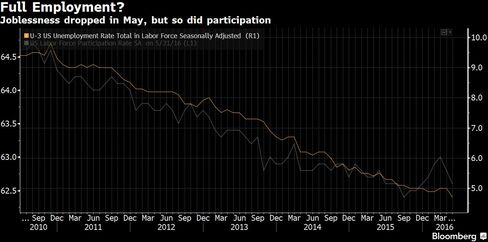 If Fed policy makers retain their unemployment call, it probably signals that they think labor market dropouts will re-enter the job hunt. That would place a floor under how far the rate can fall, since new job-seekers count among the unemployed.

"A lot of them probably think that the labor force participation rate will snap back and slow the declines of the unemployment rate going forward,'' said Neil Dutta, head of U.S. economics at Renaissance Macro Research in New York. Dutta also expects the long-run unemployment estimate to hold steady, given that wages are rising, suggesting labor market tightness. The ratio of job openings to unemployment also remains elevated, which he sees as a sign that a skills gap is keeping people out of work, rather than economic slack.
"The case to continue cutting it is getting increasingly tenuous," he said.
Lower Near-Term
Committee members could cut the 2016 jobless estimate to 4.6 percent or 4.5 percent, which would be "a bit of a mark-to-market" said Millan Mulraine, deputy head of U.S. research and strategy at TD Securities in New York. If the Fed lowers its 2016 estimate farther without changing the long-run estimate, it would signal that they think unemployment is going to drop this year to a rate well-below the level that will be consistent with stable inflation over the next five to six years.
Cutting the short-term unemployment projection further below that neutral rate estimate without tightening monetary policy—assuming that the Fed doesn't—could signal a commitment to running the job market hot. Fed Chair Janet Yellen has indicated that the Fed would be open to doing so, but the actual jobless rate has always been above the Fed's long-run projection. This meeting would be the turning point.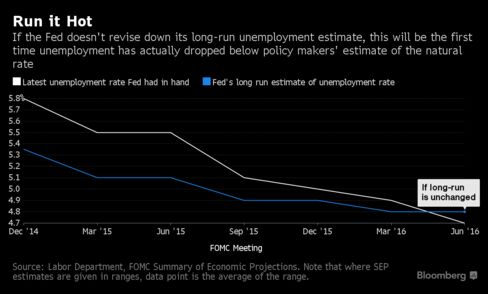 Long-Run Drop
It's also possible that the Fed could leave the 2016 number untouched—probably because of the labor outflow issues noted above—while cutting its projection for the long-run rate. That's what RBC Capital Markets' Tom Porcelli expects, either at this meeting or one later this year.

"The general trend that they are exhibiting is to keep on reducing it,'' Porcelli said.

The jobless rate is already at or below levels historically consistent with full employment, but we know that Fed officials think that the headline number has become an incomplete indicator of labor market slack. If they reduce the long-run natural rate further, it suggests they think that in an era of low participation and elevated underemployment, the jobless rate has farther to go before full employment is achieved.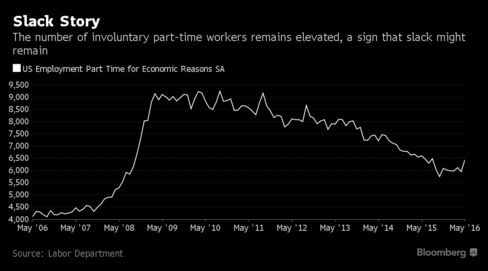 Down Across the Board
The FOMC could lower both its near-term and long-run estimates. That would signal that they think that headline unemployment can fall —and stay—lower without stoking runaway wage and price inflation. Such a move would match the trend, since both near-term estimates and the long-run estimate have been coming down over the past two years. But most economists think there's a limit to how much lower it can drop.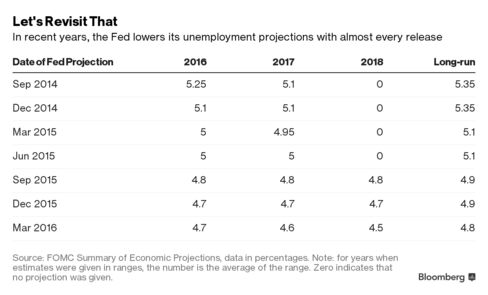 "I can't imagine them taking it all the way down to 4 — that's not in the cards,'' said Nariman Behravesh, chief economist at IHS Inc. "That's the dilemma we're facing — how low do we take this thing?''
Before it's here, it's on the Bloomberg Terminal.
LEARN MORE