Europe's Best Carry Trade Stays Alive in New Russian Rate Regime
Base rate still dwarfs peers after 50 basis-point cut to 10.5%

Amundi sticks to ruble conviction on rate outlook, $50 oil
It may not be too late to profit from Europe's best carry trade.
Buying the ruble with money borrowed in the lower-yielding dollar still makes sense, notwithstanding the currency's buffeting by Russia's first interest-rate reduction in almost a year, according to Sergei Strigo, who oversees $3.5 billion as the London-based head of emerging-market debt and currencies at Amundi Asset Management. The Bank of Russia reduced benchmark borrowing costs by 50 basis points Friday to 10.5 percent.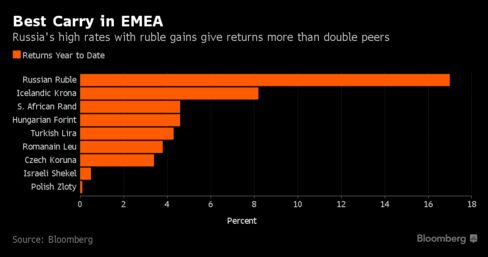 While the central bank's decision to restart easing Friday makes the ruble a less-obvious target for carry traders, the move coincides with rising odds that the Federal Reserve will prolong the near-zero rates that have sent investors to Russia chasing higher yields. Even after the reduction, the nation's key rate dwarfs peers from South Africa to Turkey. Since the ruble's plunge to a record on Jan. 21, it has demonstrated less pronounced price swings, a bonus for investors who follow gauges of volatility-adjusted returns.
"The ruble will remain attractive," said Strigo, who prefers the currency to peers in South Africa and Turkey whose economies are in the throes of political and economic turmoil. "The interest rates in Russia are still high, and the oil price is stable."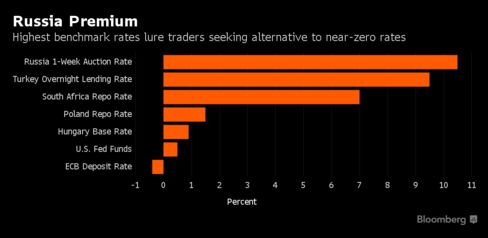 The momentum behind the strategy may begin to flag with economists forecasting a further 100 basis points of interest-rate cuts by year-end as a slowdown in inflation allows the central bank to follow through with pledges to deliver support to the recession-wracked economy. After earning more than 16 percent this year, the most worldwide behind Brazil's real, carry traders may walk away with profit of about 3 percent in the fourth quarter, according to data compiled by Bloomberg.
The Russian currency declined Tuesday when trading resumed after a national holiday, as investors sought the safest assets most likely to hold their value amid panic about Britain's potential exit from the European Union. The ruble weakened 1.3 percent to 66.1275 per dollar by 3:37 p.m. in Moscow. It has outperformed all its peers in emerging Europe and the Middle East this year, gaining 11.3 percent, buoyed by oil prices.
Evgeny Koshelev, an analyst at Rosbank PJSC in Moscow, said the carry trade can co-exist with an easing cycle, as an economic recovery will draw foreign investors. "It may sound paradoxical, but the normalization of rates means further inflow of money into Russian debt instruments," he said.
Before it's here, it's on the Bloomberg Terminal.
LEARN MORE