Consumer Inflation Expectations Little Changed in Fed Survey
Release follows record low for University of Michigan measure

Readings to be considered in FOMC's rate debate this week
U.S. households' expectations for inflation were little changed last month, according to a Federal Reserve Bank of New York survey.
Results of the consumer survey for May showed the median respondent expected inflation to be 2.7 percent three years from now. That number fell to 2.5 percent in January -- marking the lowest in the survey's three-year history -- before bouncing to 2.8 percent in April.
The release follows preliminary results of the University of Michigan's monthly consumer survey, announced Friday, which showed expected inflation between five and 10 years ahead plunged to the lowest level on record in data to 1979.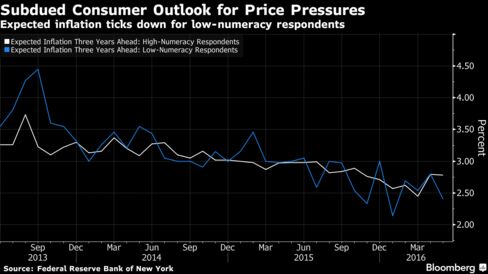 Low inflation expectations will weigh on the debate as Fed Chair Janet Yellen and her colleagues on the U.S. central bank's Federal Open Market Committee meet Tuesday and Wednesday in Washington to discuss when to next raise interest rates. Many policy makers believe expected inflation is one of the most important determinants of price pressures.
"The indicators have moved enough to get my close attention," Yellen said in a June 6 speech. "If inflation expectations really are moving lower, that could call into question whether inflation will move back to 2 percent as quickly as I expect."
The Fed's preferred inflation measure, the Commerce Department's price index for personal consumption expenditures, rose 1.6 percent in April from a year earlier, excluding food and energy categories. Expected inflation over the next year was unchanged at 2.6 percent last month, while expectation for changes in the price of food, medical care and college education all declined, according to the Fed survey published on Monday.
Investors' outlook for additional rate increases this year, following a hike in December that marked the first in nearly a decade, has been depressed since a Labor Department report for May showed the worst month for job gains in almost six years.
The New York Fed survey results also showed expectations for growth in earnings, household income and household spending moderated in May.
Before it's here, it's on the Bloomberg Terminal.
LEARN MORE