Sterling depreciates for a second week as opinion polls swing

BOE officials make their next policy decision on June 16
Less than two weeks before the U.K. votes on whether to remain in the European Union, traders are piling into more options on the pound that protect against a decline versus a gain.
The bias toward the downside, the most in at least 13 years, coincided with sterling depreciating for a second week as opinion polls had until yesterday signaled the June 23 vote is too close to call. A poll published late Friday showed the 'Leave' campaign taking a 10 percentage-point lead, sending sterling plunging to its lowest since April against the dollar. The Brexit referendum has dominated trading in the pound, overshadowing economic data.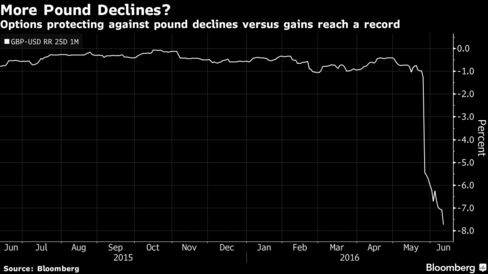 Next week, reports are predicted by economists to show faster inflation, the unemployment rate holding at the lowest level since 2006 and retail sales increasing slightly. Bank of England officials will also make their latest policy decision on June 16. None of the economists surveyed by Bloomberg are forecasting a change. Benchmark 10-year U.K. government bond yields fell to a record low on Friday.
The data "all feels a little irrelevant given what is coming on June 23," said Jason Simpson, a London-based strategist at Societe Generale SA. "It is not trivial in that it will be priced in the other side of the referendum. So a stronger set of data presumably ensures a bigger front-end move on a 'Remain' vote as the market mindset reverts to the question of when rates will rise. However, it's unlikely to be priced in to any degree ahead of the vote."
The pound fell 1.4 percent to 1.4257 as of the 5 p.m. New York close Friday after dropping as low as $1.4181, a level not reached since April 18. While it has climbed from a seven-year low of $1.3836 hit in February, it is still the worst-performing Group-of-10 currency this year.
Risk Reversals
The premium for one-month contracts protecting against a decline in sterling versus the dollar, compared with those betting on an advance, surged to 7.7 percentage points this week, the most on a closing basis in risk-reversals data compiled by Bloomberg going back to 2003.
Concern that Britain will vote to leave the EU and spark a period of economic and political uncertainty in the nation and the trading bloc, has sent currency volatility surging and helped push global bond yields to record lows. Central bankers including Federal Reserve Chair Janet Yellen have warned of the repercussions of a 'Leave' vote. Atlanta Fed President Dennis Lockhart said this week that the referendum was another reason the U.S. central bank may be patient in raising interest rates.
Goldman Sachs Group Inc. analysts including Silvia Ardagna said they favor bets on the the pound's decline versus the Swiss franc as a risk-off trade that would perform well in the event of Brexit. If this does happen, the pound could weaken by about 10 percent on a trade-weighted basis, the strategists said in a note this week.
There will be some downside risks to the pound ahead of the vote as it's significantly above its February lows, SocGen's Simpson said. "At $1.45, the view is that the upside is probably more limited than downside," he said.
Before it's here, it's on the Bloomberg Terminal.
LEARN MORE