Cameron says leaving EU would put state pensions at risk

Those backing exit from EU have focused on immigration
British public opinion is too close to call on whether the country should stay in the European Union, with many voters still undecided as interest groups and political leaders make their cases, according to two polls released this weekend.
An online survey by Opinium for the Observer newspaper showed 44 percent support Britain remaining in the 28-nation bloc, up from 43 percent a week ago. Some 42 percent of respondents backed leaving the EU, also up 1 point from the poll released on June 4, as attitudes start to crystallize ahead of the June 23 referendum, but the differences aren't statistically significant.
A YouGov online survey published in the Sunday Times showed 43 percent backed leaving, up 1 percentage point from a June 7 poll, and 42 percent favored remaining, unchanged from a week earlier.
On Saturday, U.S. Treasury Secretary Jack Lew added his voice to a chorus of leaders from within and outside the EU about the risks of pulling out of the European Union. "I see only negative economic outcomes" if the U.K. votes to exit, Lew said in an interview for CNN's "Fareed Zakaria GPS." A Brexit would also put geopolitical stability at risk, Lew said.
While a focus on immigration has allowed the "Leave" campaign to gain momentum less than two weeks before a vote that's divided the ruling Conservative Party, most polls, like the Opinium and YouGov surveys, are too close to call. In contrast, an ORB poll released on Friday showed the "Leave" camp up by 55 percent to 45 percent -- a reading that caused the pound to slump.
Undecideds Key
In Saturday's Opinium poll, 13 percent of the 2,009 U.K. adults surveyed said they didn't know if the U.K. should stay or go. When pressed, though, about 38 percent of the undecideds were leaning toward "Remain" and 25 percent toward "Leave" -- suggesting that late-deciders could tip the balance in favor of staying. In the YouGov poll, 11 percent of the 1,671 adults surveyed said they didn't know how they would vote.
The government on Friday said 1.5 million people applied to vote in the final seven days of registration after the deadline was extended by two days. That's because the official website crashed shortly before the original limit of midnight on June 7, prompting "Remain" campaigners to raise concerns that the fault may thwarted signups among young people, who are more likely to vote to stay in the EU.
Pension Risks


U.K. Prime Minister David Cameron, in an interview with the Observer newspaper, said protections for state pensions and the National Health Service would be at risk if Britain left the EU.
"This is the cold reality of leaving the EU," Cameron said. "That's why doctors, nurses and the boss of the NHS all say we will be stronger, safer and better-off in the EU."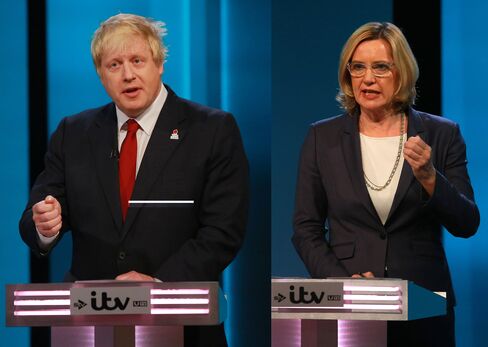 With both sides accused by the other of misrepresenting facts, the campaign has become increasingly acrimonious. A debate Thursday saw former London Mayor Boris Johnson accused by Energy Secretary Amber Rudd of seeking only to promote his leadership ambitions, while Cameron has been attacked by Brexit proponents for failing to meet his immigration pledges.
Financial markets have been whipsawed as investors grapple with the possibility of a British exit from the European Union. Sterling has fallen for two weeks in a row, to its lowest point since April, and trader expectations for market volatility jumped to a seven-year high.
Stilton Effect
U.K. groups from homebuilders to Cornish pasty-makers have weighed in on what a Brexit may mean to their businesses.
Executives from 17 of Britain's biggest property firms released a letter on Saturday saying the "considerable uncertainty" of a vote will harm investment, adding, "That is the last thing Britain's developers and house builders need." Disruptions to supply chains could also drive up the cost of building materials, they said.
Regional producers, meanwhile, wonder what would happen to the special protections from foreign rivals that they currently enjoy if Britain leaves the EU. "The EU has done a lot to protect Britain's food heritage," said Robin Skailes, whose family makes Stilton cheese at Cropwell Bishop Creamery in Nottingham. "We make fantastic food in this country, and we want to preserve it for the next generation."
Lew on CNN repeated President Barack Obama's assertion that the U.K. would have to wait for the U.S. to strike a trade deal with the EU before getting one of its own, should voters opt out of the union. "That wouldn't be good for the U.K.," Lew said.
Before it's here, it's on the Bloomberg Terminal.
LEARN MORE