Medicine cuts blood sugar levels, helps patients meet goal

Ertugliflozin filing for FDA approval expected by end of year
Merck & Co. and Pfizer Inc. are doubling the size of a study of their joint diabetes treatment to keep up with smaller competitors in the fast-growing market that already have proven their drugs can reduce the risk of death from heart complications.
The pharmaceutical companies, the largest two in the U.S., are developing the drug ertugliflozin for use alone and in combination with Merck's best-selling Januvia. The trial will be expanded to 8,000 people at high risk for heart disease to determine whether the treatment helps the heart.
A study presented Saturday at the American Diabetes Association meeting in New Orleans found that the drug significantly reduced glucose levels and helped more than half of patients reach their blood sugar goals in some cases. While impressive, the study wasn't designed to evaluate the medicines' impact on heart disease, by far the leading cause of death in diabetics.
The competition heated up in the $71.5 billion global diabetes market last year after Eli Lilly & Co.'s and Boehringer Ingelheim GmbH's Jardiance unexpectedly reduced the risk of heart attacks, strokes and deaths by 14 percent in a study, the first to show such a benefit. Novo Nordisk A/S said in March that its Victoza injections have a similar benefit. The details of that study, called Leader, will be presented at the diabetes meeting on Monday.
Cardiovascular Outcomes
While blood sugar control is critical in diabetes, "even more important is reducing the complications, and arguably the most important is in cardiovascular outcomes," said James Rusnak, chief development officer for cardiovascular and metabolic drugs at Pfizer. "We are not only looking at the cardiovascular safety requirement for regulatory approval, we expect to further define the benefit of ertugliflozin to deliver the reduction of cardiovascular" complications and death, he said.
Merck's Januvia, the top drug for the Kenilworth, New Jersey-based company, didn't harm the heart in a study conducted to rule out any increased risk. Recent demand for the medicine and another formulation called Janumet have plateaued in recent years as rivals reached the market.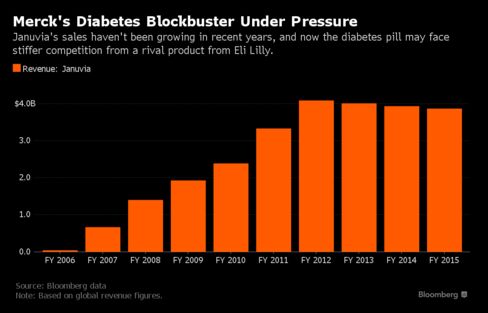 The latest results are from the first two of nine primary trials that Merck and Pfizer are conducting on ertugliflozin, which will ultimately include 12,600 patients with type 2 diabetes, the most common form. They plan to file for U.S. Food and Drug Administration approval of the medicine by the end of the year, said Peter Stein, head of late-stage development for diabetes and endocrinology at Merck Research Laboratories.
Complementary Drugs
The medicines work together in a complementary manner, with ertugliflozin increasing the excretion of sugar and calories through a person's urine and Januvia boosting production of insulin to lower glycemic levels, Stein said. The drug will be taken as a once-a-day pill in the morning.
The first six-month trial found ertugliflozin significantly trimmed blood sugar levels as measured by A1C levels, which are supposed to be at 7 percent or less, by 0.99 to 1.16 percentage points compared to placebo. About 28 percent to 36 percent of patients met the goal of an A1C reading of 7 percent or less, while only 13 percent on placebo reached the goal.
In the second trial, A1C levels fell by 1.5 percentage points when both drugs were taken, compared to a drop of 1 point for ertugliflozin or 1.1 points for either a higher dose of ertugliflozin or Januvia alone. The combination was more potent than either medicine alone, with about half of patients reaching their goal, compared to one-fourth to one-third of those given either drug at any dose alone.
While ertugliflozin was discovered and developed at Pfizer, officials at the New York-based company realized they needed to differentiate it from others in the class, including Johnson & Johnson's Invokana and AstraZeneca Plc's Farxiga. Rival combinations are already in the works or on the market, including one with Jardiance. Pfizer sought the relationship with Merck because Januvia is the leading drug in its class, Rusnak said.
Before it's here, it's on the Bloomberg Terminal.
LEARN MORE