Trichet Says Brexit Would Be a 'Catastrophe' for the U.K.
Former ECB president says integrity of U.K. is at risk

Says global economic backdrop is 'profoundly abnormal'
Former European Central Bank President Jean-Claude Trichet said the U.K. would damage its economy if it votes to leave the European Union in less than in two weeks.
"I hope very much, very profoundly that we won't have a Brexit because it would be a catastrophe for the U.K.," he said in a Bloomberg Television interview with Francine Lacqua and Tom Keene on Friday. "It puts even into question the integrity of the U.K. It's an immense problem for the U.K. and the prime minister is right to stress the importance to say yes to remaining."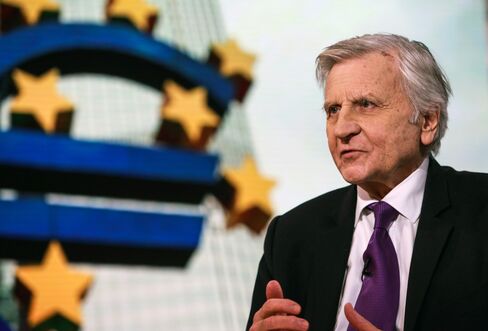 Trichet adds his voice to a host of warnings, including from the Bank of England and the International Monetary Fund, about the risks from a splintering of the EU. BOE Governor Mark Carney has said it could trigger a U.K. recession, and a report published on Friday said European equities could lose about a quarter of their value in the immediate aftermath.
Asked about policy makers including Federal Reserve Chair Janet Yellen and Bank of Japan Governor Haruhiko Kuroda, Trichet said they all have difficult jobs, though Carney may be in the most difficult situation right now because of the upcoming vote.
"Mark Carney has the Brexit ahead of him and it is really one of the worst possible situations," Trichet said. "Mark has the most difficult job obviously."
Asked about the extraordinary steps central banks have taken since the Great Recession, Trichet said it's right that policy makers have taken drastic measures to revive inflation. But he said that they "should not be the only game in town."
"We are in a world which is profoundly abnormal," he said. "We all have to get back to a normal level of inflation but that is not only the job of the central banks."
Before it's here, it's on the Bloomberg Terminal.
LEARN MORE