Iraq Overtakes U.A.E. as Largest Mideast Sugar Importer: Chart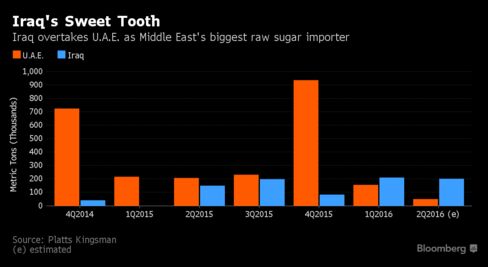 Iraq has emerged as the largest raw sugar importer in the Middle East, overtaking the United Arab Emirates, home to Al Khaleej Sugar Co., the world's biggest stand-alone refinery. Iraq imported 210,000 metric tons of raw sugar in the first quarter compared with 156,600 tons sent to the U.A.E., according to Claudiu Covrig, an analyst at Platts Kingsman. Etihad Food Industries in Babel province near Baghdad opened Iraq's only sugar refinery last year.
Before it's here, it's on the Bloomberg Terminal.
LEARN MORE