Global Blood Shares Surge as Pills Raise Hemoglobin in Study
Normal blood protein rises in patients taking full dose

Sickle cell patients on drug saw abnormal cell count drop
Global Blood Therapeutics Inc. surged after saying its experimental pills boosted hemoglobin production in a small study of patients with sickle cell disease.
Five patients on a full dose of the drug saw production of normal hemoglobin, a protein that's malformed in the disease, rise and stay elevated over 90 days, Global Blood said Friday in a presentation. Shares jumped 12 percent to $24.79 at 9:30 a.m. in New York. Through Thursday, Global Blood had gained 11 percent since its August 2015 initial public offering, peaking at $54.66 in November.
Sickle cell disease occurs in people who produce a misshapen version of the protein hemoglobin, which is used in red blood cells to soak up and transport oxygen. Mutant hemoglobin changes red blood cells' shape from round discs to crescents, which can clog the bloodstream and prevent good dispersion of oxygen. The company's drug is designed to modify the process that leads to sickling.
The study looked at eight patients with sickle cell disease, six of whom took the drug, called GBT440, and two of whom were on a placebo. In contrast to the increase among treated patients, normal hemoglobin production stayed the same or fell in those on placebo.
"If you look at the cumulative effect of this drug, it's getting better and better," Chief Executive Officer Ted Love said in an interview. "Our data is fairly compellingly saying this drug appears to be 100 percent effective at modifying hematologic characteristics."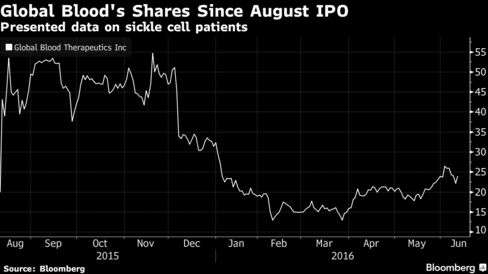 One patient decided to take less than the full dose of GBT440 for personal, non-clinical reasons, Love said. That patient didn't have a significant increase in hemoglobin production.
Five of six treated patients for whom data was available saw a 70 percent decline in cells that were irreversibly sickled, an effect of abnormal hemoglobin, according to the company. The two on placebo saw an uptick in sickled cells over those 90 days. The drug was well tolerated, according to the presentation.
Global Blood, based in South San Francisco, would like to begin a larger study by the end of the year aimed at gaining U.S. regulatory approval, according to Love.
Before it's here, it's on the Bloomberg Terminal.
LEARN MORE