North America Has 33 Years Remaining in Oil Reserves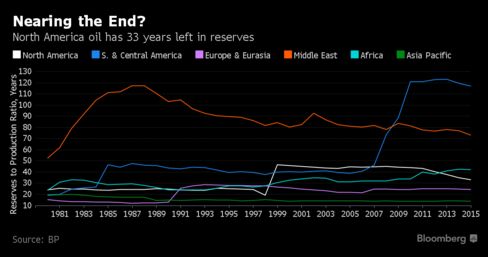 North America has 33 years of oil reserves left, according to BP Plc's annual statistical review. The above chart shows how long it would take each region to deplete their remaining reserves at the previous year's production rate. South and Central America, buoyed by Venezuela, has the highest reserves to production ratio of 117 years. "I wouldn't expect an increase in the ratio in the U.S. in a low-oil environment barring a step change in either extraction costs and/or extraction efficiency," said Peter Pulikkan, a Bloomberg Intelligence analyst.
Before it's here, it's on the Bloomberg Terminal.
LEARN MORE