Nigeria Food-to-Logistics Company UAC Joins Naira Complaints
Suppliers buying black-market dollars, driving up costs

Lack of flexibility is hindering planning, UAC CEO says
UAC of Nigeria Plc, an investor in foods, logistics and real-estate services in Africa's largest economy, said the central bank's delays in announcing details of a more flexible foreign-exchange system are holding back business decisions because of confusion over future costs.
"They should have done it yesterday, rather than tomorrow," Larry Ettah, UAC's chief executive officer, said in an interview Wednesday in Lagos, Nigeria's commercial capital. "We are hopeful that if flexibility is introduced, it will help to bring clarity in terms of costing. People don't like uncertainty."
Central Bank of Nigeria Governor Godwin Emefiele said May 24 the bank would introduce a flexible exchange-rate regime in Africa's largest oil producer "in the coming days" to boost investment. A scarcity of dollars has contributed to inflation reaching an almost six-year high of 13.7 percent, while the economy contracted for the first time since 2004 in the first quarter.
Faced with dwindling oil revenues, the central bank has restricted access to foreign exchange. Nigeria has held its currency, the naira, at 197-199 per dollar since March 2015, unlike many other oil producers affected by the slump in crude prices since mid-2014, which let their currencies weaken. As the dollar shortage has worsened, the naira's value has plummeted on the parallel market, falling to 375 per dollar Wednesday.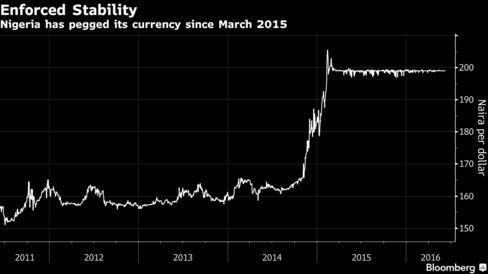 United Airlines and Iberia have stopped flying to Nigeria, partly because the country's depleting foreign-exchange reserves have left carriers owed $575 million in outstanding air fares, according to the International Air Transport Association. The African president of Unilever has called Nigeria's currency policy "very insane."
UAC is suffering from an increased "blended cost" from suppliers that use the black market to obtain dollars while the company struggles to get greenbacks on the interbank market, Ettah said. It has been difficult for the company, whose businesses include restaurants, paints and pensions, to "replenish inventory at cost-competitive rates" and to keep up with royalty remittances to overseas partners, he said.
Flexibility in Nigeria's foreign-exchange market "will bring transparency in pricing and allow us to plan in the future," Ettah said.
The slump in oil prices has had a further impact on UAC, prompting the company to call off plans to sell stock last year as Nigerian equities tumbled. UAC stock dropped 39 percent in 2015 as the benchmark index retreated 17 percent.
"If you look at the cost of raising those funds and also the amount you'll end up raising, it's simply cost ineffective," Ettah said. The stock advanced 4.5 percent to 19.85 naira by 1:35 p.m. in Lagos, paring its decline this year to 4.3 percent.
Before it's here, it's on the Bloomberg Terminal.
LEARN MORE