Cocoa Supply Crunch Seen by Sucden Lasting Until End of Year
Poor crop means shortage will appear bigger than forecast

High prices paid to farmers may result in higher output
A supply crunch in cocoa that's boosted prices will last until year-end, when production may rebound in West Africa, according to Sucres et Denrees SA.
The worst desert winds in three decades that reduced the quality of cocoa in West Africa means some beans won't be processed this season, making an expected shortage of 280,000 metric tons appear bigger in the physical market, said Damien Thouvenel, a trader at the Paris-based company known as Sucden.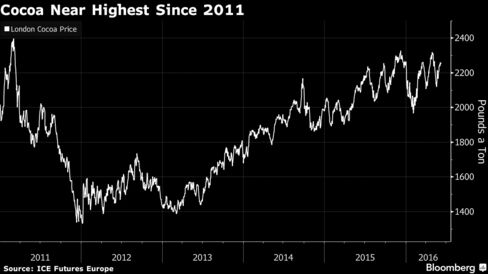 Beans from the mid-crop -- the smaller of two annual crops in top producers Ivory Coast and Ghana -- are too small to be exported and the quality is too low even for local grinding. That's helped attract speculators, pushing cocoa futures traded in London to near the highest in more than four years. Higher prices will probably encourage growers around the world to boost output next year, Thouvenel said.
"If there are no delays to the next crop, the earliest we will see good-quality beans reaching the market is December," he said in an interview at the company's office in Paris. "At the same time, with higher prices being paid to farmers, the odds at the moment are that production will rebound."
Supply Issues
Extra supply won't happen anytime soon. Ivory Coast will struggle to export more than 100,000 tons of cocoa during the remainder of the mid-crop, less than half that amount shipped a year earlier, Thouvenel said. With bean quality suffering, grinders will need to tap cocoa stockpiled in other parts of the world, such as Europe and the U.S.
"What we are seeing is a deficit caused by logistics, the beans aren't in the right place," Thouvenel said. "Due to the low quality, grinders will also need to process more beans to get the same amount of butter," a by-product that accounts for about 20 percent of the weight of a chocolate bar, he said.
Ivory Coast's Le Conseil du Cafe-Cacao allowed exporters to ship smaller beans in a bid to deal with deteriorating quality, according to letter sent by industry regulator seen by Bloomberg.
High prices could spur more future production at a time demand isn't growing, potentially moving the market into a significant surplus next year, according to Sucden. The global chocolate market shrank 2.6 percent in September to February, Zurich-based Barry Callebaut AG, the world's top cocoa processor, said in April, citing data from analytics group Nielsen.
The view in the chocolate market that the world would need 1 million tons of additional cocoa by 2020 took into account annual consumption growth of 3 percent to 3.5 percent and that's not happening, Thouvenel said. With Ivory Coast raising prices paid to farmers, there's a risk of consecutive years of large surpluses emerging, he said.
Dry weather forecast during the development of next season's crop in West Africa is still a threat to a potential output increase in the region, he said.
Before it's here, it's on the Bloomberg Terminal.
LEARN MORE