Brazil Reforms Will Advance Despite Scandal, Temer Aide Says
Brazil could post primary surplus next year: chief of staff

Padilha says government rates righer in economy than politics
Michel Temer's interim government will push controversial measures such as labor and pension reforms even after a corruption investigation snared members of his cabinet, according to Chief of Staff Eliseu Padilha.
A bill to make Brazil's public pension system self-sustaining will be presented this month, and labor reform will follow next month, Padilha said in an interview in the presidential palace. With the bulk of the negotiation with unions and civil society taking place before the bills are sent to Congress, the government's goal is to have both measures approved by the end of the year.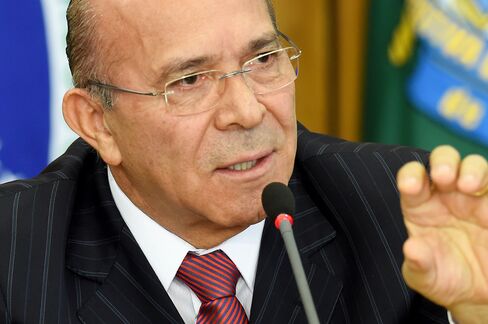 "We can adopt measures that aren't very nice, but are absolutely necessary," Padilha said. "We can't make mistakes in economic policy."
Padilha, 70, who is the acting president's right-hand man and one of his most influential cabinet members, said the three-week-old government deserves a top grade on economic policy. He was "surprised" at how fast members of Temer's cabinet were implicated in the so-called Carwash corruption investigation, yet expressed confidence that the government will maintain a two-thirds majority in Congress needed to approve unpopular measures.
Brazil's long-awaited pension reform will follow international standards, such as transitioning to a minimum age of at least 65 for both men and women, Padilha said. The secret to winning approval for such a controversial bill is to conclude negotiations before the bill is presented.
"Responsibility for pension reform doesn't lie with the government," Padilha said. "It should be something that belongs to all of society."
Padilha, Rousseff's former aviation minister and the first cabinet member to leave her faltering government last year, is known for accurately mapping votes in Congress, including the series of votes that opened the impeachment trial. There is a five-vote margin in the Senate to permanently remove Rousseff from office, a move that is expected for early August, he said.
Padilha said the government must start showing results if it is to compete with negative headlines, especially regarding the Carwash probe that has reached members of Temer's government and his Brazilian Democratic Movement Party. Two ministers have already stepped down, and local media reported that prosecutors are seeking arrest warrants for one of them, as well as the head of the Senate, the suspended head of the lower house and a former Brazilian president who is close to Temer.
Still, he said the corruption allegations shouldn't slow the approval of economic measures, including a constitutional amendment to cap government spending expected for next week. The proposal would prevent government costs from increasing more than the rate of inflation from the previous year. That, combined with the expectation of more tax revenue as the economy recovers, will help close the budget deficit, Padilha said.
The effects of the investigation will be temporary and the administration will be able to maintain the level of support it currently enjoys in Congress, Padilha predicted. "This is our guarantee that the measures proposed by the economic team will be successful."
Before it's here, it's on the Bloomberg Terminal.
LEARN MORE