Venezuela Opposition Said to Be Divided on Path to Oust Maduro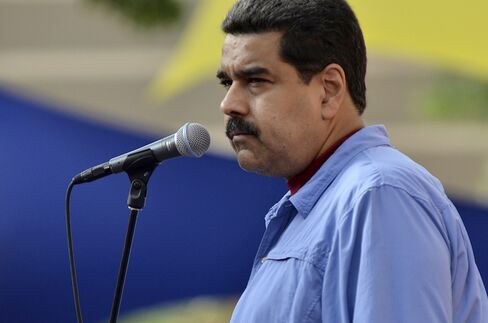 Lopez, Capriles said to insist on holding referendum this year

Ramos Allup said to be open to negotiations with government
Venezuela's opposition is divided on which is the best path to remove President Nicolas Maduro, according to four people with direct knowledge of internal discussions.
While a group led by National Assembly President Henry Ramos Allup would be open to negotiating a release of political prisoners in exchange for delaying a referendum on Maduro, another set of parties led by Governor Henrique Capriles and Leopoldo Lopez, currently in jail, is unwilling to budge on demands to hold a recall vote this year, said the people, who aren't authorized to speak publicly on behalf of the opposition.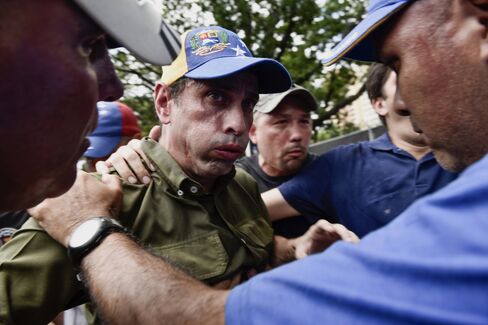 The divide was evident last weekend after former Spanish Prime Minister Jose Luis Rodriguez Zapatero met with Lopez in his jail cell outside of Caracas. While few details of the meeting were released publicly, Lopez's lawyer and spokesman, Juan Carlos Gutierrez, said the two-hour meeting was cordial and included a request from Zapatero to begin negotiations for his release.
"He tried to convince Lopez not to push for the referendum," Gutierrez said in a telephone interview. Lopez "rejected that. It's the people who should decide whether or not there is a referendum. He isn't against dialogue, but talks should not be aimed at producing delays or trying to put off the referendum."
Zapatero didn't immediately reply to requests for comment through his Socialist Party. He's expected to speak later Wednesday in Caracas at an event with the National Electoral Council to provide an update on the opposition's recall request. The press offices for Ramos Allup, Capriles, and the MUD coalition didn't immediately respond to telephone and e-mailed requests for comment on the possible divide within the opposition.
Opposition's Struggle
During 17 years of rule by the political project founded by the late Hugo Chavez, now known as Chavismo, Venezuela's opposition has struggled to rally around common candidates and goals to unseat the ruling socialist party. While Capriles nearly won the contested presidential election following Chavez's death in 2013, the conglomerate of opposition parties gathered under the alliance known as MUD have failed to capitalize on recent gains and waning support for the government amid an economic crisis.
Since winning control of congress in December elections, the opposition has seen its central initiatives and majority narrowed by the Supreme Court, which was stacked with pro-Maduro judges by the outgoing, pro-government congress.
Zapatero traveled to Venezuela to push for mediated talks with the South American regional bloc known as Unasur and visited Lopez in prison last weekend. Zapatero was accompanied to the jail by Caracas Mayor Jorge Rodriguez of the ruling party, though he didn't attend the actual meeting with Lopez, Gutierrez said.
To read about Lopez and his imprisonment, click here.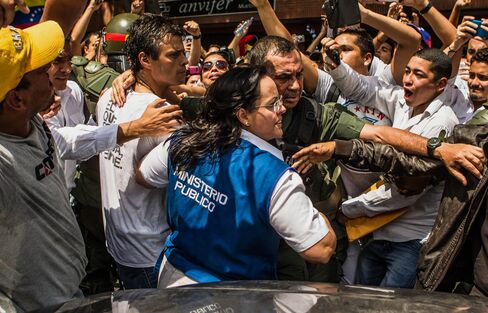 Lopez, who's been in jail since 2014 after being sentenced to nearly 14 years for inciting violence during anti-government protests two years ago, reaffirmed his belief that a referendum should be held this year after the meeting, his attorney said.
"I told him that no conversation or dialogue should go before the greater interest of achieving constitutional change this year," Lopez wrote in a message posted on his Twitter account. "I reaffirmed the importance of releasing all political prisoners, as before my liberty, comes that of all of Venezuela."
Capriles, who has at times been portrayed as both an ally and rival to Lopez, alluded to divisions in the opposition last week when he said that the time for a dialogue with Venezuela's government had long since passed. He urged the opposition alliance to remain unified but also to review its agenda to stay in line with the demands of ordinary Venezuelans as they face the worst recession in decades and the world's fastest inflation.
He was one of the only opposition leaders to participate in a march toward the electoral council on Tuesday that was dispersed by National Guard and police with tear gas.
Caracas Chronicles, an English-language blog that follows the political situation in Venezuela, reported earlier Wednesday that the proposal outlined by Zapatero to Lopez also offered a reform of the Supreme Court in exchange for calling off demands for the recall referendum.
Before it's here, it's on the Bloomberg Terminal.
LEARN MORE